Physik by Angie Sage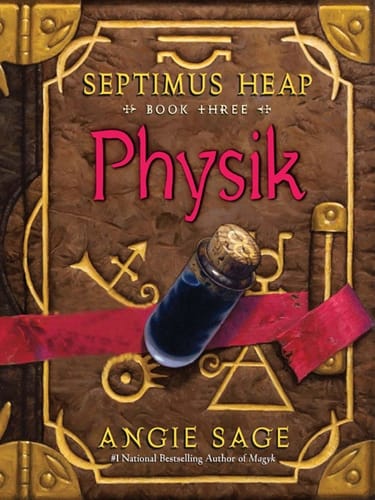 Physik
by
Angie Sage
Series:
Septimus Heap #3
Format:
Hardcover
Goodreads
Yep we are to the third book.  It gets harder and harder to write about these.
Silas UnSeals a room in the attic of the Palace releasing the terrifying ghost of Queen Etheldredda.  Septimus is fascinated by the papers of the alchemist, Marcellus Pye, who lived 500 years ago.  Snorri Snorrelssen, a new face, has come to join the ranks of the Northern Traders and to find the ghost of her father.  Suddenly 500 years doesn't seem so long ago and the past is threatening the future.
I really do enjoy these books.  They can be quite silly and a bit meandering but it is definitely stylistic.  Each book adds layers to this world and its magic and the characters.  I cannot imagine reading these out of order.  I fear it would not end well.  This book had the most loose ends so far.  There were several things where I thought okay we mentioned this and that but they still need to be done, and what is going to happen with them.  It is an itch at the back of my brain a little bit but I don't thing I'll be sure how I feel about it until I read the next one and see if these things are covered in the beginning, integral, or oh yeah we did that in the meantime.  I don't want to spoil the series though so off I go!
Have I mentioned how much I love the covers of these books?  (Looks) Oh yes I have but really the detail is fantastic.  There are not many series where I want all of them in hardcover especially seeing as I was not caught up on reading these as they came out.
Related Posts