Reckless by Cornelia Funke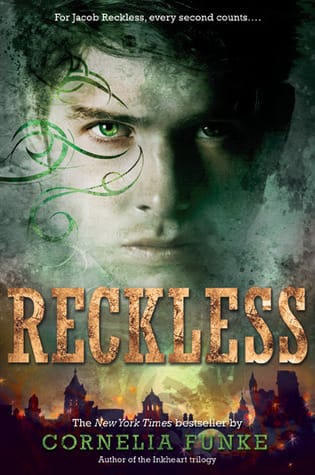 Reckless
by
Cornelia Funke
Series:
Mirrorworld #1
Format:
Paperback
Goodreads
I'll start out with an interesting cover note, the one pictured here is the paperback copy that I have.  Featured on the cover is Jacob as distinguished by the fact that his eyes are green, not blue or gold.  Though the green swirlies made me unsure at first.  The original cover the black with the frame and the green face, that is Will.  Now a making fun of myself moment: notice those names?  Jacob and Will… hmm that rings a bell… Jacob and Wilhelm… okay so yes they have the Grimm brothers name.  The shame is that is was over of a quarter of the way through a book filled with fairy tales made real before I realized the Reckless brothers were named after the Grimm brothers. Cue facepalm.
So so far you know that we have a fairy tale land and two brothers.  Their father disappeared when they were young.  They're mother recently died of cancer.  For years older brother Jacob has been disappearing for huge chunks of time, but in some ways he never left their father's study.  In the room that they all avoid is a mirror that is a door into another world.  A world that Jacob prefers over reality.  Then Will stumbles in after him and is cursed and Jacob must find a way to save him.
This is not a happy fairyland.  The bad guys are worse and the happy endings aren't necessarily true.  Jacob's best friend is Fox, a vixen who is actually a girl he once saved.  Jacob Reckless has made a name for himself as a treasure hunter, finding legendary magic items.  Then there is Will who trusts his brother absolutely even though he left so often.  There are other interesting people to the cast but I don't want to spoil anything.  Jacob feels like a gallant hero, but you also see the vulnerable young man underneath.
I started this not realizing there was going to be a second book but honestly I began to seriously suspect about halfway through.  I've been avoiding series because they're a reason for me to want to buy more books but well it's Cornelia Funke, it's fairly assured I'm going to buy what she puts out anyway.  I love her characters and the worlds she creates.  They always feel so complete to me.  Complete immersion.  I also love her writing, everything about it, and I suppose translator Oliver Latsch probably gets some credit for that, but I know I love everything she has written and not all of it was translated by him.
This is definitely a book that could be read easily by a male or a female I think and it is a great crossover that is adult but would definitely be enjoyed by young adults as well.  Sometimes I have issues writing when part of my gut is to just say: LOVE, LOVE, LOVE… READ IT!