Flyte by Angie Sage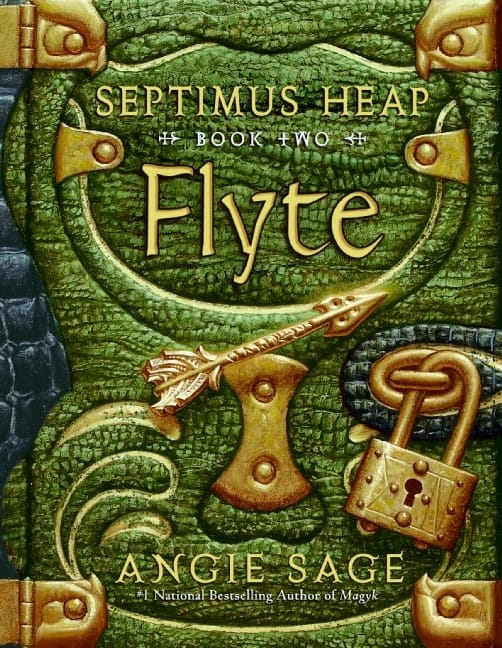 Flyte
by
Angie Sage
Series:
Septimus Heap #2
Format:
Hardcover
Goodreads
This is a sequel so spoilers from the first book are inevitable.  Though I will try to avoid spoiling anything in this volume.
A year later.  Septimus is settling in as Apprentice.  The Heaps, Jenna in particular, have settled into their new lives in the palace.  There is one Heap however who we left out of the end of the last book, the Apprenticeship had been his dream, and Simon views Septimus and Jenna as interlopers.  He does terrible things when he is able to convince himself that the family ties are broken.
Key to this series are a couple of things: first let us talk about the vocabulary.  It is uniquely spelled and bolded.  I find it, not condescending but charming. It makes me feel like I can almost taste the magic, I can almost imagining the powerful words sparkling.  There are also a lot of surprises: which I can't say… but one has to do with a rock, another is under the Castle (this one I think will come into a future book and I am so excited).  This time the story meanders a bit more or so it seems, but in the end it comes together beautifully.  I like that I felt foreboding about certain things but not knowing all the magic rules makes it so that I can't actually fully see what is going to happen.
Personal Thoughts: Confession: earlier I mentioned imagining the magic words that are bolded sparkling, whenever I look at this series I imagine a special edition.  It is bound in full leather like the style of the covers but with real locks and metal corners and the magic words are in gold ink.  I am a nerd.  One truly fun thing about this series is at the very end there is a section of FYI's, little tidbits about side characters and such.
Related Posts