Top Ten Tuesday: Top Ten Books If You Like Grimm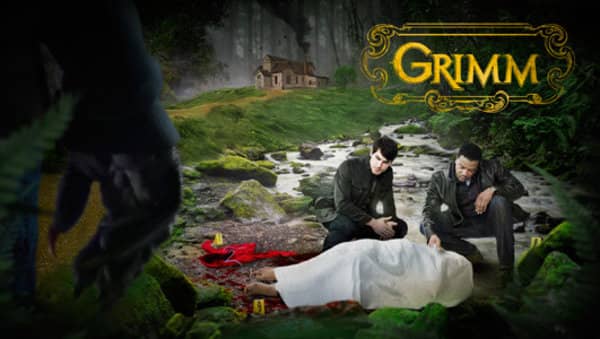 A meme from the Broke and the Bookish.
Today's topic: Top Ten Books If You Like X tv show/movie/comic/play etc. (basically any sort of other entertainment)
I was tempted to do Game of Thrones but it seems like a cop-out. There just aren't many good fantasy TV shows out there. Especially high fantasy. Though there are also very few things that can compare to George R.R. Martin.
I'm just currently restarting Grimm because I was far behind but it has an entire healthy genre of urban fantasy to back it up. Urban fantasy is a strange genre. If you just look at the name itself it is quite broad but often the name is used for a particular vein. I stuck to that vein with this list because it is the best fit for Grimm.
1. Storm Front by Jim Butcher (Book #1 of the Dresden Files) This series actually had it's own show The Dresden Files but it only lasted a season, much to my disappointment. Dresden is a wizard out for hire, but he spends a lot of his time working for not enough money, just trying to help people.
2. Already Dead by Charlie Huston (Book #1 of Joe Pitt) Joe is a vampire for hire, this type of urban fantasy in particular tends towards a mix of fantasy, but also the almost episodic nature reminiscent of a crime show.
3. Greywalker by Kat Richardson (Book #1 of Greywalker) Harper is a PI,, so it follows the traditional urban fantasy format. I came into this series in the middle and still think it may be the best urban fantasy that I have read. Definitely a series I want to start from the beginning now.
4. Working for the Devil by Lilith Saintcrow (Book #1 of Dante Valentine) A lot of urban fantasy protagonists are in a tough situation, but Lilith definitely has a unique situation being a necromancer working for Satan.
5. Kitty and the Midnight Hour by Carrie Vaughn (Book #1 of Kitty Norville) Most of these characters have jobs that put them in the thick of things. Kitty is a DJ, far from looking for trouble, but she is also a werewolf. I've only read short stories about her.
6. Charming by Elliott James (Book #1 of Pax Arcana) I haven't read this one but the premise is just to funny. Just read that Goodreads synopsis and tell me that you can resist.
7. Burning Water by Mercedes Lackey (Book #1 of Diana Tregarde Investigations) Diana is a novelist, really she writes formula romance, but she makes a living at it. The rest of her time is spent using her magic to help people. There are only three books but there is such back knowledge I always felt that Lackey must have volumes of notes and back story somewhere.
8. Libriomancer by Jim C. Hines (Book #1 of Magic Ex Libris) The reason I found this book was I looked up the author due to his posing… entertainingly… with John Scalzi. I stayed because what librarian wouldn't after reading about it?
9. Moon Called by Patricia Briggs (Book #1 Mercy Thompson) It is impossible to be around urban fantasy without hearing about Mercy. I always get the impression this shifter is more rough around the edges then some of the other women in urban fantasy.
10. Sandman Slim by Richard Kadrey (Book #1 Sandman Slim) One of my professors actually told me about this series and honestly I probably should have put it earlier in the list, except my lists have no order… or do they?
I haven't read all of these, but I want to… even though that would mean starting several massive series and I haven't even finished those that I have started. I forget how much I like this subgenre.
A couple other TV shows of note:
The Dresden Files were mentioned earlier but deserve to be mentioned again. I think it was pretty well done and hated that it got cancelled. The only negative I remembered was the detective wasn't at all as I pictured her from the book.
Lost Girl is an interesting urban fantasy show with a major fae aspect. It is very adult content but incredibly well done. Still running.
Moonlight had a brief run, but it was fun. You have to remind people about the non shiny vampires. Also very classic urban fantasy. Vampire is a PI.
New Amsterdam doesn't fit as well because the only supernatural aspect is the protagonists immortality but it still definitely fits the genre.
Angel, not Buffy the Vampire Slayer (okay maybe) but primarily Angel fits this crowd.
Really I don't even think Charmed or True Blood really fit in this crowd… Charmed more so but still the focus seems wrong. I swear it is partially because of some weird tendency towards the protagonists being mostly loners. They may have a support network but usually the situation comes down to them. Obviously I like shows like this. When there is something that might remotely fit this category I have to try it. Now excuse me while I give Grimm another go.