The 31st of Halloween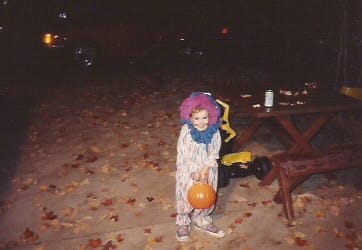 One of my coworkers has declared that October doesn't exist, there is only Halloween and it has 31 days. When I was a kid I wasn't that into Halloween. I enjoyed it but was more excited by the excuse to dress up rather than the spooky. Child me really needed to be told that cosplay was a thing. I was a lobster and a scarecrow and all sorts of things. I did do a witch the year we got my dog Levi.
Lately I think I've been thinking a lot about how I came to love Halloween. I think it parallels with my love of horror. I always loved books and movies with magics. Then being the age that I am… that inevitably led to the era of vampires. I didn't have much access to Buffy but I loved her. Enter Amelia Atwater-Rhodes writing In the Forests of the Night, she was six years ahead of the Twilight book. Vampires were my access point and they are still a huge love of mine. I love a clever vampire tale. Donny Cates seduced me with his series Redneck. Byzantium is a movie I can't get out of my head. The Historian increased my love of Dracula. The Strain TV series played with the way vampires work, something I always love. I was already in love with Robin McKinley for over a decade before she published Sunshine. There are always several vampire items on my to read and to watch lists. I need to read more other horror. I'm working on it with my love of Joe Hill. Heart-Shaped Box is one of the few books I've successfully read lately (Yes, I need to write a post, shhhh). Don't ask me how much I've read of his father's work, you'll laugh.
I was a kid terrified of Little Monsters. My first R rated movie was Lake Placid. My mom always talked about how she pretty much quit watching horror after I was the same age as Gage when Pet Sematary came out. My dad liked horror but wasn't a huge fan. I was in college when we decided to have a horror night with a family friend while mom was out. We watched The Descent and I think our friend did good picking that movie. This was not the cliché silly woman running in the wrong direction. These were all women fighting for their lives. Then I ran with my love of horror. I love high quality horror, and terrible horror. I love things that are spooky and slasher and the classic sort of Halloween appropriate horror, but I also have a large affection for deep sea horror. Underwater feels like it should have been filmed in the 90s and I love it. For my birthday this year, we went to see Spiral. I love the Saw series, the evolution it has undergone and that somehow they continually make the retcons still make sense.
I like to put on horror movies and read horror books year round but Halloween. Everybody is in. There are lists of recommended media. I've become someone who wears Halloween, not quite goth, year round. In this month I blend in. Not just blend in even, I am more likely to buy clothes in October! Well okay I actually really like shopping in November when I get all the cute black clothes with bats and witches on sale. What is your favorite part about this month?