I Finally Went to Walt Disney World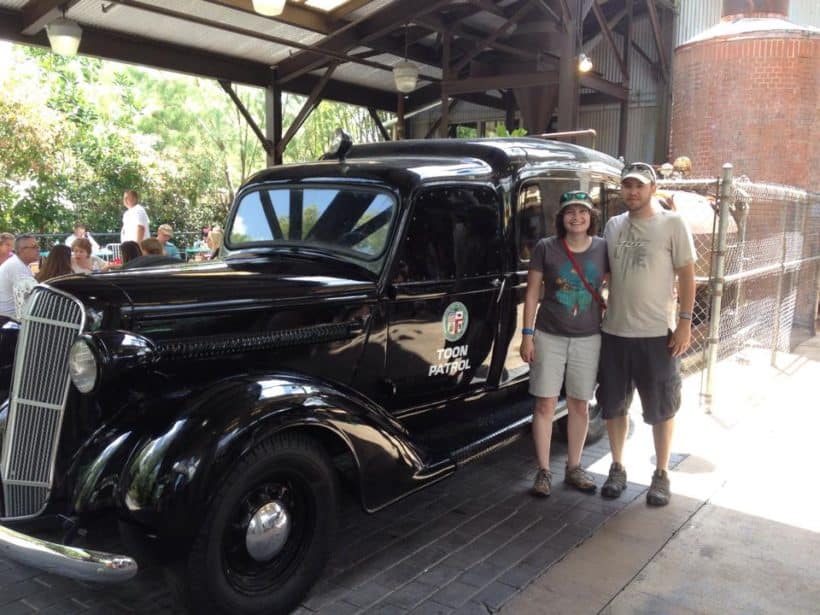 I've always been a Disney fan. I'm not a die hard, but I definitely support them. Saying that Disney princesses are bad, to me is like saying that picture books are too simple and all pink books are anti-feminist. I should stop now because I am getting off on a regular blogging tangent.
I have two previous experiences with Disney property:
In 2006 I went to SETC in Orlando in a whirlwind of chaos. Part of that chaos involved an incredibly brief stop on Disney property for one of my carpool mates to buy a giant Stitch.
Then in 2010 Ben and I went on our first vacation together to the PSP World Cup of Paintball in Polk City, FL and stayed with my aunt in Lakeland. We took one night off and went to La Nouba at Downtown Disney and went up in Characters in Flight.
The roomies have already enabled several firsts. For instance I have been meaning to go to the Renaissance Faire for most of my life. Various friends over the years said they would take me, but it never happened. Then last year… I went! So when the Disney veteran and the AAA employee live with you it is only a matter of time before you go to Disney.
We scheduled the trip months ago to fit in everyone's schedule. I really didn't contemplate just how exhausting it would be until we got to June and I was actually doing Freshman orientation at the University again. Here is the craziest bit of timeline for you.
Sunday June 8 – Worked 10:30 to about 1:30 at an orientation.
Monday June 9 to Friday June 13 – Worked normal work days 8 -5. Was at the orientations on Monday, Wednesday and Friday.
Saturday June 14 – We drove all day long.
Sunday June 15 to Tuesday June 17 – We went to a park per day.
Wednesday June 18 – We drove all day long.
Thursday June 19 – I went back to a normal work day and orientation. I was the only one of us to go to work.
Friday June 20 – Normal work day.
Saturday June 21 – I slept half the day.
Even though I am still exhausted I had a blast. So now to the fun things. Saturday we got to our resort, which was Port Orleans – French Quarter. We checked in and finally got to use our snazzy magic bands which are super cool and definitely the technology for tomorrow. I kept thinking of all the ways I expect they will further implement them and you can wear them in the pool! We dropped our stuff, barely freshened up then we got on the water taxi to Downtown Disney. Water taxi is the way to travel. We then jogged to our reservations at Crossroads at House of Blues. All of the food was to die for. FYI the meal plan is totally worth it. We spent some time wandering Downtown Disney and scoping potential souvenirs before crashing for the night in our nice room.
We ate our breakfast each morning using our snacks at Sassagoula Floatworks and Food Factory Food Court (such a mouthful, I had to luck up the name). Sunday was our first park day: Hollywood Studios! I was honestly not as overwhelmed as I expected to be. I was the only one with a bag but the security guys were ninja fast with checking people. We didn't realize until we got there, that while the main Star Wars weekend was over there were still things going on. Just so you know I am totally going to be out of order as far as when we did things each day. The exact order is already blurry. On the topic of Star Wars we did Star Tours, which was fun. They had changed things since Ben rode it in the ancient times. I totally guessed the twist that they had changed. Matt and Allison waited for ages to get their picture taken with Boba Fett, that was true love (on Allison's part). I hadn't ridden a roller coaster since I was like 7 or 8 and was terrified after riding Scooby Doo at Carowinds. So Rock 'n' Roller Coaster was absolutely terrifying. I'm relieved we haven't gotten all our photos downloaded so I don't feel obligated to show that incredibly unflattering picture. Though I might later, it is funny because Ben posed for the picture like he was watching me even though it was dark and he couldn't really see me. Right after that we did Tower of Terror. I liked the atmosphere and set up. I like going up. I hate going down. I clung to Ben. In that photo both Ben and Allison are watching calmly as I make faces of horror. My coworker made me text her after that. My legs were jello. I think that was actually about the last thing we did, like I said timelines are kind of fuzzy. We also went to Muppet*Vision 3D which I thought was adorable and honestly a better use of 3D then most things. Ben was greatly amused by the 90's tourists that are still part of it. We also went to the Indiana Jones Epic Stunt Spectacular which was fun, though I laughed at the female stunt double being blonde. Later I was extra glad we went to Muppet and Indiana Jones because a bus driver later told us that those two might be cut to make room for the full Star Wars area. We went on The Great Movie Ride which was dangerously close to getting multiple songs stuck in my head. It wasn't as creepy as I expected. It was the only time I was less than impressed with one of the cast members, she was just not into it. Ben got a Boba Fett baseball cap and Matt got some fantastic Star Wars bounty hunter art. We ate lunch at the Backlot Express. I knew there would be rides in my future so I got a salad which was actually really fresh and more than I could eat. We went back to the hotel before dinner and then walked next door to Riverside Resort and our dinner reservations at Boatwright's Dining Hall. Once again all the food was fantastic and more than we could eat.
Monday was Animal Kingdom. We went on the Kilimanjaro Safaris which was fantastic and our driver was hilarious. There were SO many animals and so much space. We did the Maharajah Jungle Trek and the Pangani Forest Exploration Trail. There were Wilderness Explorers everywhere and I kind of wished I could still pass for 12 and participate. I think the cast member outfits at Animal Kingdom looked more comfortable than most. It was definitely a fun place to just walk around and look at things. The other three went on the Expedition Everest roller coaster but I couldn't convince myself. I probably would have been fine but it was funny to sit and watch people on it. We had fast passes for Kali River Rapids but didn't go, which was probably one of my few disappointments the whole trip. Instead we left early and went back to the hotel pool to cool off and relax for a bit. We had lunch at Restaurantosaurus. Honestly even Disney's chicken nuggets are ridiculously good. Then we returned to our beloved Downtown Disney to pig out again, this time at Fulton's Crab House. It used two of our meal plan dinners but was totally worth it. I would have cried to order that much otherwise. Then in a moment of insanity both Ben and I joined the lanyard and pin tradition. Matt had bought his on Saturday so he had been going all along. Allison had a lanyard back home but she actually started a second one with us. I just really didn't have another souvenir calling to me and I was enjoying helping Matt trade so I got my own. Ben has focused his on rides and things he has actually done.
We saved the most iconic for last, Magic Kingdom. Now that is overwhelming. There are so many more people and it was a Tuesday! There was lots of wandering around and drooling. We did Pirates of the Caribbean and Ben made sure I knew which parts were added to the movies because of the ride. There were only 3 Jack Sparrows, we counted. We did Big Thunder Mountain Railroad. To give you idea of me and rides I was practically in tears freaking out getting on this ride. Then I loved it. I could ride this all day. Just let me stay on the kid friendly rides forever. We also did Splash Mountain, where I felt like most of the Brer Bear animatronics were mildly inappropriate. There was this one point right before a tiny drop that we had to wait and it was totally creepy in the dark with the music. I screamed my head off on the drop. I do like getting wet. The other three decided to wait in line FOREVER to go on the new Seven Dwarfs Mine Train. Apparently it was easy and I would have loved it, so it is definitely on the list for next time. In the meantime I wandered around, looked at places, traded pins and went on It's a Small World by myself. I just posted about how much I like silhouettes and minimalism. I thought the belly dancers were creepy and the donkeys were adorable. I totally nerded out and got annoyed in the last all blue and white room when a single building still had horrible traditional yellow bulbs that made it look orange in contrast. We also went to The Haunted Mansion. I love all the details. Ben kept laughing at me because I was still so awed by things like the ballroom dance projections even though it has been there forever. Once again we went and spent some time in the hotel pool at the end of the day before dinner. We went to lunch at Be Our Guest. I was super excited because I love Belle (I don't like to name favorites especially because I simply can't compare the newer princesses with the classics). It was ridiculously good, I couldn't even finish the sandwich, it was giant! For dinner we went to Wolfgang Puck Express and used our leftover Quick Service and honestly it was up there with the actual dinners, it was ridiculously good. Then we made the epic journey back to Magic Kingdom. Downtown Disney and Magic Kingdom don't directly connect so we hopped a bus to the Grand Floridian to get us in the right direction. That place is ridiculous. You feel like a peasant walking in and the whole place smells of fresh soap. There we hopped on the monorail which Ben was glad I finally got to ride, because he considers it iconic. Then we battled the crowds and found a place on the bridge to Tomorrowland where we could watch the light show. Ben and I were total nerds. We loved the projections and were in awe, so then we sat there in the dark and talked about how they did it. I think the projections are even more fun than the fireworks but the fireworks are good to. As we were leaving Magic Kingdom I got some of our leftover tip cash and got the squished penny with the castle on it at one of the stores. Seriously people penny souvenirs are where it is at!
We left again early in the morning and that folks was our whirlwind adventure. I went into the trip mildly freaking out about how much money I had spent and reassuring myself by saying that even if I only go once in my life it will be worth it. By the end of the trip I knew without question that it was all money well spent and there is a small part of my brain that will be continually planning my next trip and resisting buying Ben ride pins off of eBay. Being at the resort was so convenient. The meal plan was fantastic. Oh! If you plan on getting more than like 2 pictures taken by the park, rides or otherwise, get the PhotoPass+! No one told us about it until it was too late and we only had one more picture but it is an excellent deal I wish I had known about. I might have to do another post when we sit down and get the last few pictures. We did get an official group picture in front of the castle. Disney World is definitely magical!