Star Wars: Poe Dameron: Black Squadron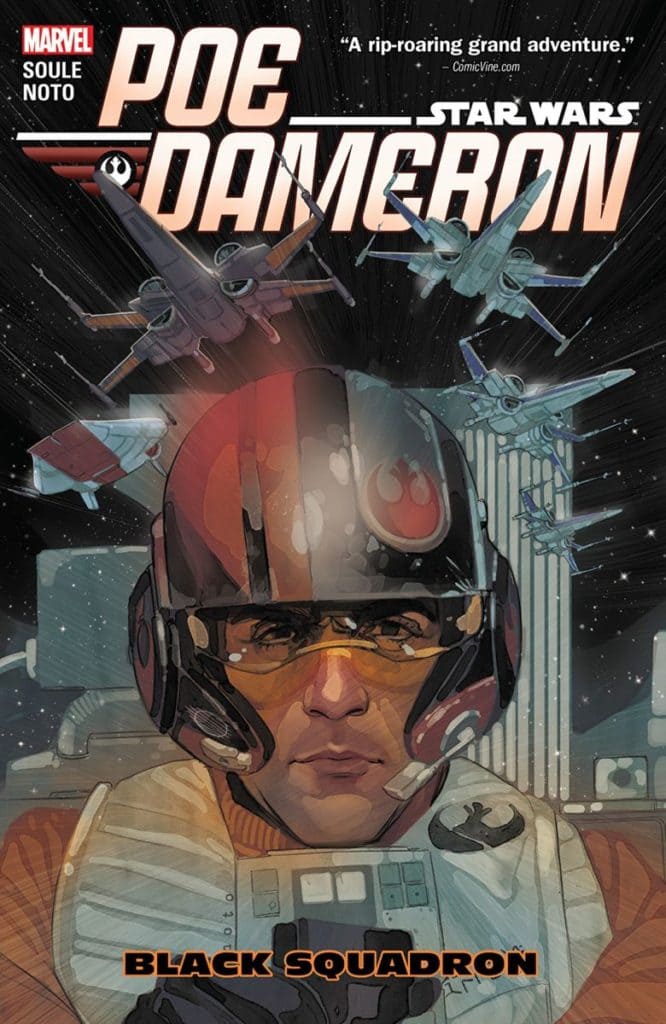 Star Wars: Poe Dameron: Black Squadron
by
Charles Soule
,
Phil Noto
Series:
Star Wars: Poe Dameron #1
Poe Dameron, former Republic flyer turned Resistance fighter, is the best pilot in the galaxy. Hand-picked for the resistance by General Leia Organa to lead a squadron on a top-secret and vital mission, Poe sets off to investigate sites of historical importance to the Force — revealing backstory leading directly into The Force Awakens! Follow Poe and his X-Wing squadron on covert missions against the First Order, brought to you by writer Charles Soule (STAR WARS: LANDO, DAREDEVIL) and artist Phil Noto (STAR WARS: CHEWBACCA, BLACK WIDOW)!

Collecting issues 1–6 from the ongoing series.
Goodreads
Poe Dameron, hero of the rebellion, but before the events of The Force Awakens. First off, if you don't melt for Phil Noto's art then we can't be friends. We begin with BB-8 and Poe Dameron, the team we know from the movie, but Poe Dameron is at the center of the rebellion and he is part of a bigger team, Black Squadron. Though let's be honest Poe Dameron getting mom talks from Leia is terribly important too. Black Squadron is a tight knit group from the moment you meet them. The banter, the flying, and you quickly warm to them. A new enemy in the form of Agent Terrex gives us new insight on how the First Order differs from the Empire. We are on the hunt for Lor San Tekka, but it will not be a straight forward path.
Really there are two arcs in this volume. The first in which there is a mysterious egg and we meet everyone. The second in which we intentionally go to prison and get to watch the droids be extra awesome (I might be biased on that point). Both stories move along the trail of finding Lor San Tekka, but I feel like more importantly they develop the bonds of this group. These are not just pilots, they are Black Squadron, and I think Poe Dameron is an excellent mix of both his mother and his father.
Related Posts