The Private Eye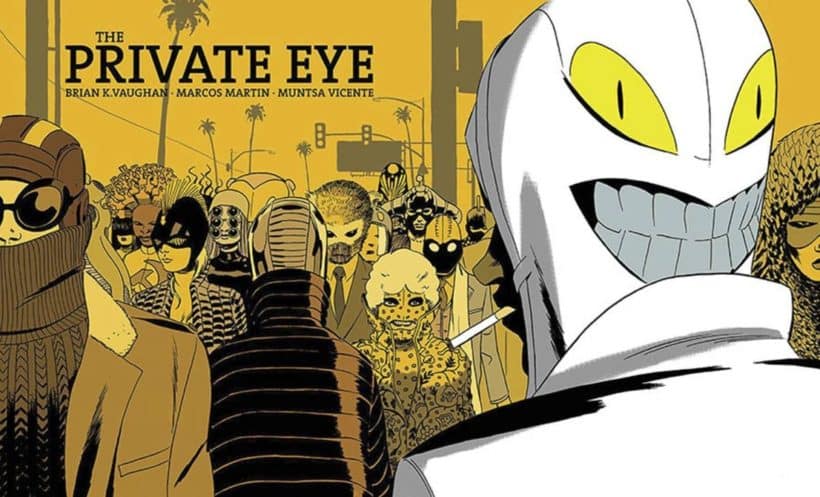 The Private Eye
by
Brian K. Vaughan
,
Marcos Martin
,
Muntsa Vicente
Format:
Hardcover
Because retailers, readers, and ROBERT KIRKMAN demanded it, the online sensation from PanelSyndicate.com's BRIAN K. VAUGHAN (SAGA, PAPER GIRLS) and MARCOS MARTIN (The Amazing Spider-Man, Doctor Strange: The Oath) is finally coming to print with this gorgeous deluxe hardcover edition, presented in the story's original widescreen format!

Years after the digital cloud "bursts" and exposes all of our worst secrets, THE PRIVATE EYE is set in an inevitable future where everyone has a secret identity. Following an unlicensed P.I. who is thrust into the most important case of his life, this sci-fi mystery explores the nature of privacy with frightening prescience.

Collects THE PRIVATE EYE #1-10
Goodreads
A web comic about the world after the "cloud" burst, put into print. Yes, I appreciate the irony. It is actually fun to read sequential art that doesn't follow the standard format. You get used to certain panel structures and this definitely mixes things up. There are such interesting details in this world, the tables have turned on the role of the press. The masks and all of the extreme privacy are so weird and yet oddly believable.
Privacy has taken an entirely different turn. People go to extreme lengths to hide their identity, masks in public is common.  Honestly my favorite character is the grandfather. There is a moment with a cable that validates generations of hoarding. He is us and he is supposed to be. I definitely enjoy something with a twist that I don't expect. I also love the passing of a torch and I feel like this torch is passed to more than one person.