Identity Crisis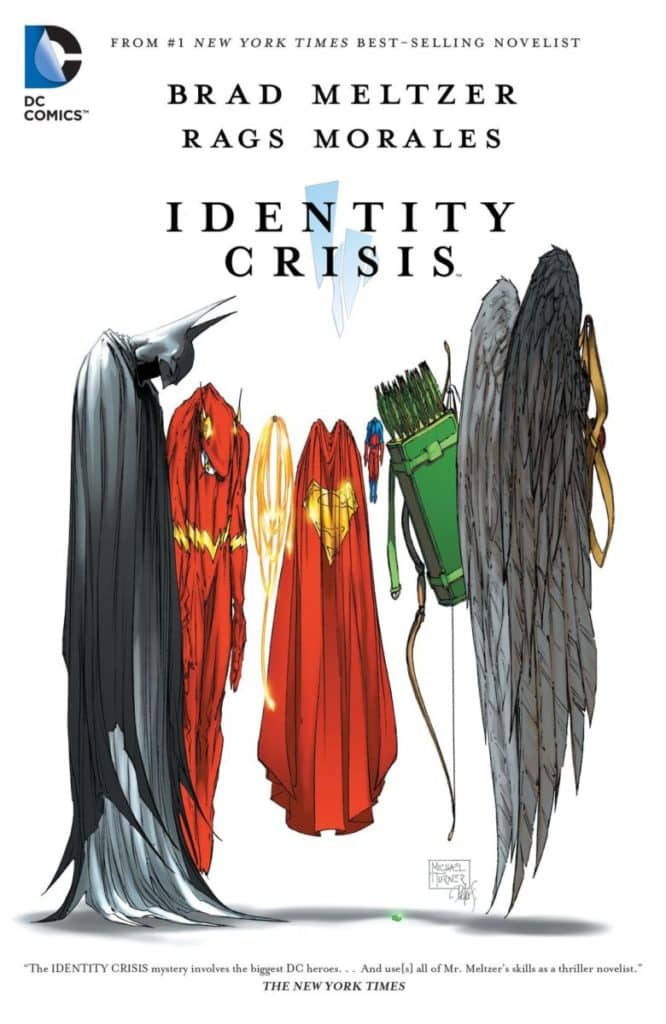 Identity Crisis
by
Brad Meltzer
,
Michael Bair
,
Rags Morales
Format:
Paperback
New York Times best-selling author Brad Meltzer (GREEN ARROW) teams with artists Rags Morales & Michael Bair (WONDER WOMAN) and cover artist Michael Turner (SUPERMAN/BATMAN) to deliver an all-too-human look into the lives of super-heroes, and the terrible price they pay for doing good.

When the spouse of a JLA member is brutally murdered, the entire super-hero community searches for the killer, fearing their own loved ones may be the next targets! But before the mystery is fully solved, a number of long-buried secrets rise to the surface, threatening to tear apart and divide the heroes before they can bring the mysterious killer to justice.
Goodreads
I knew that this was a difficult book but I didn't know exactly how. I was glad that I had avoided spoilers. Humorously I did not realize that this book was Brad Meltzer until after I was sitting in comic book club waiting to discuss it but as soon as I realized it just made sense. The ominous nature and the sense of conspiracy all fit. I do think that the role of women in this book is problematic. It's not so much the handling of what happened but that the role of the women is so limited for most of the book.
I did love the culmination of whodunnit, I wish I could talk more about it but I think they laid the groundwork fairly well. The other death that occurs bothers many because it makes a certain character more homogeneous with his group (hint hint) and while I am not an avid DC reader I can definitely see where that frustration would come from. I did appreciate getting to see Batman take on his role as detective a bit more. I also am fascinated by the concept that the B-listers make sacrifices to allow the A-listers to have plausible deniability. The idea that being a super hero isn't as shiny as it may seem to be.