The Book of Taltos by Steven Brust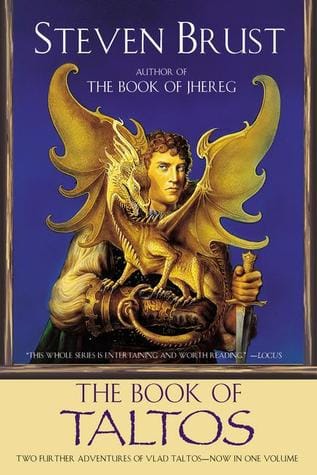 The Book of Taltos
by
Steven Brust
Format:
Paperback
Vlad Taltos is an assassin unlike no other. Not only is he quick with a sword, but he also possesses a gift for witchcraft conjuring. The latest addition to his already formidable arsenal is a leathery-winged jhereg who shares a telepathic link with Vlad—making him twice as deadly…

The adventures chronicled in Taltos and Phoenix find Vlad accepting a job in the Land of the Dead, but a living human being cannot walk the paths of the dead and return, alive, to the land of men. Fortunately (or unfortunately, depending on your point of view), the Demon Goddess is willing to rescue him—if Vlad is willing to grant her a favor in return…
Goodreads
Taltos : Vlad is still new to being a boss when one of his men betrays him, or so he thinks. Suddenly he is with some of the most powerful Dragaerans in the Empire. They want his help and they aren't shy about it. The strange thing is they don't want someone killed, they want something stolen and Vlad is the man for the job because he is an Easterner. It doesn't stop there because this volume also includes Vlad's infamous journey into the Paths of the Dead. It was interesting to see his interactions with these characters before they became friends. This one also has background on Vlad's early life.
Phoenix : In Taltos Vlad met the gods and learned about the way they work a bit. So you would think he would know better than to pray to the goddess Verra for help. Actually she set him up so that she could offer him a job. He doesn't know why but he finds himself traveling to an island country to assassinate a king. The island is a strange and interesting place where the magics of this world do not function normally. Suddenly the Empire is on the brink of war and Cawti and her band of rebels are harassing it from the other side. This could end very badly.
Related Posts