Star Wars: Vader Down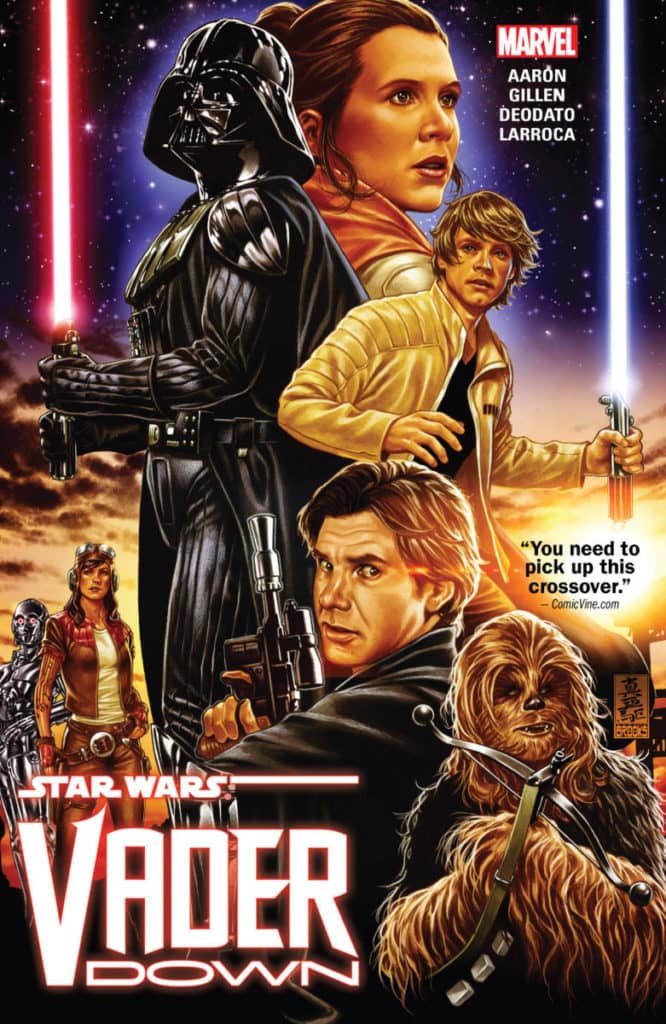 Star Wars: Vader Down
by
Jason Aaron
,
Kieron Gillen
,
Mike Deodato
,
Salvador Larroca
Two of the biggest titles in comics collide in the first crossover of the new Marvel age of STAR WARS! When Darth Vader accidentally finds himself facing off against the rebel fleet on his own, he is sent crashing onto a nearby planet. Will the rebels seize this opportunity to put an end to one of their greatest enemies — or will they be made to feel the full power of the dark side? The Sith Lord may be down, but he isn't out! All your favorites are here, old and new, good and evil: Luke! Vader! Leia! Aphra! Han! Threepio, Artoo, Triple-Zero and BT-1! And in a hair-raising battle of the Wookiees, Chewbacca versus Black Krrsantan! ROOOARRGH UR ROO!

Collecting STAR WARS: VADER DOWN, STAR WARS (2015) #13-14 and DARTH VADER #13-15.
Goodreads
The Darth Vader first run and Star Wars series read really well overlapped, which kind of comes to a peak here. They'd mingled but now they tell a story totally together. There are fun things in this book like Aphra getting to interact with our main heroes to much disaster. The way in which Vader finds himself in this situation actually makes a surprising amount of sense. I particularly loved the fights in this book both in space and on the ground.
I feel like this does a good job of mixing the humorous, like all of these droids in the same vicinity, with some interesting heavier stuff. There is some hints of Jedi history, as well as some hints of Han Solo's reputation and also Doctor Aphra's. I'll never grow tired of droid arm gags and protocol droids calling astromech droids names and arguing.
The writing and art blend well even though there are distinct styles. I really miss when Larroca did his own faces, this book it was still great. However in later books he has begun to do more editing in of actual faces which just doesn't blend in well. I also think this story does a great job of cementing the bonds of the core group. Yes the series primarily follows them but I feel like the stakes in this book communicate something that doesn't necessarily read elsewhere.