Hellboy Library Edition, Volume 1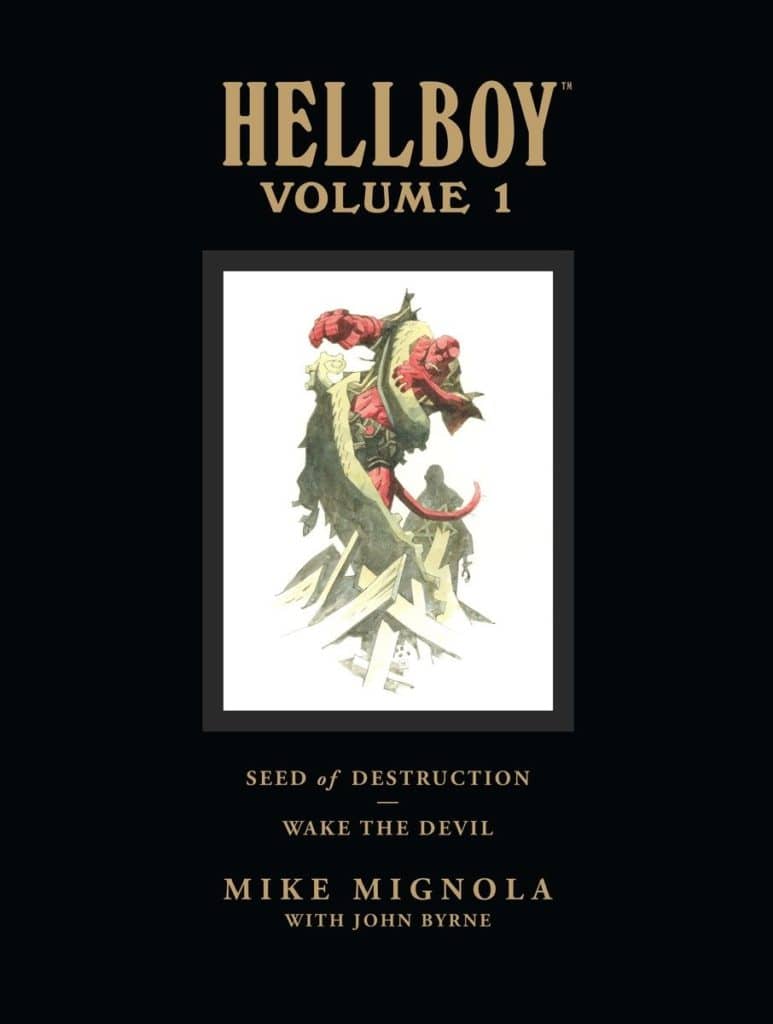 Hellboy Library Edition, Volume 1: Seed of Destruction and Wake the Devil
by
John Byrne
,
Mike Mignola
Series:
Hellboy Library Editions #1
When strangeness threatens to engulf the world, a strange man will come to save it. Sent to investigate a mystery with supernatural overtones, Hellboy discovers the secrets of his own origins, and his link to the Nazi occultists who promised Hitler a final solution in the form of a demonic avatar.

A murder in a New York wax museum and a missing corpse lead Hellboy into ancient Romanian castles on the trail of a sleeping legend: the original nobleman vampire. Nazi scientists prepare for the return of their occult master and the end of the world, and Hellboy confronts his purpose on earth.
Goodreads
So I picked up these books on Halloween last year…
I bought the entire library edition set. I think that is a good way of testifying that you know you will love something. It also makes them a little overwhelming in your to be read pile. I finally quit procrastinating. It was everything I'd hoped for and more.
I've always loved Mignola's art. I find it funny that he is described as an artist's artist because I definitely am not an artist but have always found it irresistible. I can't even tell you what it is. I do think at least part of it would be that he does not fear darkness. I'll try to break it down by the contained books a little bit…
Seed of Destruction: Weird reason to love Hellboy: He thinks about damage to the architecture in a fight. Quip isn't the right word but his dialogue both internal and external just struck me as wonderfully distinct.
As someone who has been aware but not educated I kept wondering what the heck was up with all the frogs, well now I'm starting to get it. There are some things that clicked but more that just made me die of curiosity. The other things, not the seven, that are shown in the other dimension.
Seriously, even the black and gray pages stop me in my tracks. (Side note: I'm also realizing that reading these is probably going to make my tattoo desires even worse.) Maybe at some point I'll figure out the woman and the ape in the little circles at the beginning of each Chapter.
Wake the Devil: Weird things that Hellboy makes me ask: What does Romanian food taste like? I think moments like that are what make Hellboy already feel more like a person than a great number of human characters that are out there. It's interesting reading this as someone who has seen the movies and already met some of these people, to see what is different and what is the same. Though I feel like pretty quickly even into the first story I threw it all out the window.
As they struggle with their tech (and yes it took a moment for me to make the connection for those who know the world) I had to remind myself. It's the 1990's. I was approximately 4 when Mignola drew that first version of Hellboy.
This was the first drawing of Hellboy. pic.twitter.com/Njto2eR1aX

— Mike Mignola (@artofmmignola) January 11, 2018
There is a reason that in my mind Hellboy has existed forever and it was hard to imagine diving into. Also they have jet packs! Kinda…
I love vampires so I think it was easy for me to get invested in this story. Also the building of a supernatural arsenal has always fascinated me. I feel like I'm getting to see the trials and errors of the Nazi attempts but in reverse. I know this is just the tip of the iceberg, but not just because of the other books sitting on my shelf, because there are little tidbits in here that make me think "tell me more."
Confession: I was actually recommended to start in Volume 2 with the more short stories. I didn't listen. I can see why it was recommended that way because this starts out heavy. You don't get a lot of time to invest. I definitely enjoyed it fine, but I can see the logic.
The two promotional stories are kind of interesting as a toe dip into the universe, but I found the rest of the back matter actually more interesting. Mignola captioning his sketches so many years later is so relateable to me. When I go back and look at my writing I feel like I would sound about like that…