Dragons Love Tacos by Adam Rubin, illustrated by Daniel Salmieri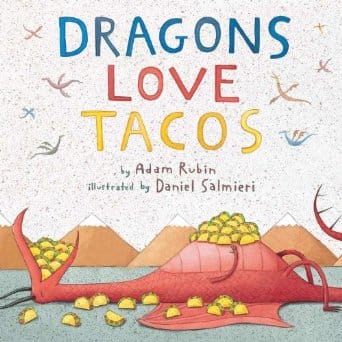 Dragons Love Tacos
by
Adam Rubin
,
Daniel Salmieri
Format:
Hardcover
Dragons love tacos. They love chicken tacos, beef tacos, great big tacos, and teeny tiny tacos. So if you want to lure a bunch of dragons to your party, you should definitely serve tacos. Buckets and buckets of tacos. Unfortunately, where there are tacos, there is also salsa. And if a dragon accidentally eats spicy salsa . . . oh, boy. You're in red-hot trouble.

The award-winning team behind Those Darn Squirrels! has created an unforgettable, laugh-until-salsa-comes-out-of-your-nose tale of new friends and the perfect snack.
Goodreads
Soo much cute. The art style is a good mix, child like but not annoyingly so. The dragons are all a similar style but you can easily see that they are unique. I love the small print on the jar of salsa. I love how unique the concept is, dragons and tacos. It is fun and quick and I'm sure one that kids will request over and over, in a row. They will chant the text along with the parent before long and they will love the details in the illustrations.