Young Warriors: Stories of Strength edited by Tamora Pierce and Josepha Sherman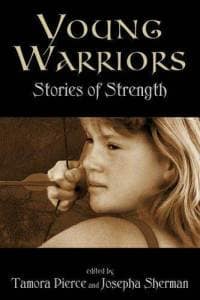 Young Warriors: Stories of Strength
by
Brent Hartinger
,
Bruce Holland Rogers
,
Doranna Durgin
,
Esther Friesner
,
Holly Black
,
India Edghill
,
Janis Ian
,
Josepha Sherman
,
Laura Anne Gilman
,
Lesley McBain
,
Margaret Mahy
,
Mike Resnick
,
Pamela F. Service
,
Rosemary Edghill
,
S.M. and Jan Stirling
,
Tamora Pierce
Format:
Paperback
Goodreads
Well you can definitely expect many of these writers to show up here again at some point. I won't go story by story but there were some I liked more than others. You might look at it and expect heroes and heroines who are all beautiful and powerful, but the majority of them are real heroes, ordinary people overcoming extraordinary circumstances. The worlds range from the historical to the fantastic.