Tithe: A Modern Faerie Tale by Holly Black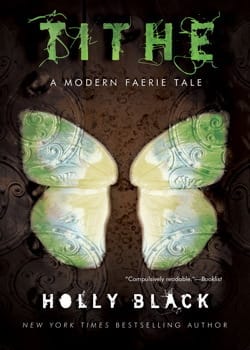 Tithe
by
Holly Black
Series:
Modern Faerie Tales #1
Format:
eBook
Sixteen-year-old Kaye is a modern nomad. Fierce and independent, she travels from city to city with her mother's rock band until an ominous attack forces Kaye back to her childhood home. There, amid the industrial, blue-collar New Jersey backdrop, Kaye soon finds herself an unwilling pawn in an ancient power struggle between two rival faerie kingdoms -- a struggle that could very well mean her death.
Goodreads
I got this eBook from a Humble Bundle. I honestly didn't know much other than the fact that Holly Black was covered in praise and this was a part of it. I found myself making comparisons to Julie Kagawa's faerie series, which I enjoyed but I thinks Black's interpretation was much more dynamic. You still have such base items as the Seelie and Unseelie courts but the felt more gray and more real. I did also realize that these courts were the basis for Mania and Dementia in The Shivering Isles of the Elder Scrolls games. You feel sorry for Kaye and you realize before her what is going on, but that is part of what makes you feel sympathy for her. She once believed that the fairie world was simpler than the real world, clear lines of black and white. She thought it was a good world but now she is older and she sees the darker side of things, even those she once called friend. I think for me the hardest part to imagine was Kaye adapting to her entire physical nature changing. I thought Roiben was much more interesting then the male leads in most fae books. He was flawed and damaged and had a hidden side. I did not expect the ending at all, and yet it fit. This is a man who has been conditioned to go to extreme lengths and now it is coming back on them.