Doctor Strange: The Oath written by Brian K. Vaughan, art by Marcos Martin, colored by Javier Rodriguez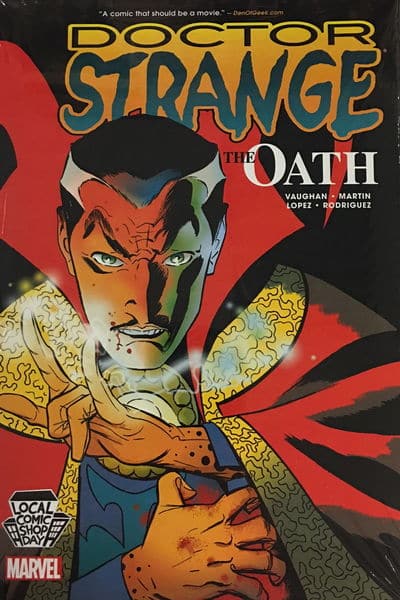 Doctor Strange: The Oath
by
Brian K. Vaughan
,
Javier Rodriguez
,
Marcos Martin
Series:
Doctor Strange
Format:
Hardcover
Doctor Stephen Strange embarks on the most important paranormal investigation of his career, as he sets out to solve an attempted murder--his own! And with his most trusted friend also at death's door, Strange turns to an unexpected corner of the Marvel Universe to recruit a new ally. Eisner Award-winning writer Brian K. Vaughan (Runaways, Y: The Last Man) and red-hot artist Marcos Martin (Captain America, Batgirl: Year One) join forces for an adventure that will take the Sorcerer Supreme from the underworld of New York City to the deadliest dimensions on the outskirts of reality--while firmly establishing him in the current Marvel Universe! COLLECTING:Doctor Strange: The Oath 1-5
Goodreads
This won't quite be my normal format because I read this one for the Comics Book Club at my local shop, Acme Comics. So I want to capture some initial thoughts from before the gathering of minds and then I'll also include some updated thoughts after the fact.
Before:
I keep meaning to delve into older Docter Strange stuff, there is just something about him that appeals to me. I've read the first Masterworks Volume, so I've seen his introduction. So it was interesting to have my second endeavor was pitched as making Strange relevant to a whole new generation of readers. My snazzy Local Comic Shop Day hardcover has extras including Vaughan's original pitch and it is interesting to see how the ideas of that pitch came through. I began reading Strange with Jason Aaron's fresh start for him. I think that is part of the appeal for Strange. He didn't just become a Master of the Mystic Arts and then Sorcerer Supreme, he became a better person. One of the items that stuck out to me the most in the pitch is also in the series title, that Doctor Strange was a doctor before all else and he took the Hippocratic oath before all else. This tale focuses a lot on Wong and it makes me want to read more Strange because while Strange fascinates me, I'm also fascinated by those around him. (I'll restrain my gushing over Zelma Stanton for another time.) Night Nurse's interpretation of the relationship between Strange and Wong is an assumption that comes easily but their bond is more than it seems. I admit to having not read that much Strange, so it may be his recurring themes, but I felt like you could see a lot of moments in this book that felt echoed by the recent film, which I highly recommend by the way. I don't want to list them because they are spoilers in not one but two directions. I'm curious to see if that is a parallel drawn by long-term Doctor Strange readers. I'm a little nervous about this book club, so mostly I'm just curious…
After:
Organizers were under the weather so comic book club was laid back and our topics meandered a bit so I don't have terribly much to add. It is definitely the general consensus that the movie was heavily influenced by the Oath. We talked about the humanization of both Strange and Wong. The things we liked even included the fact that Strange is wearing actual pants and not leggings, so we had some good laughs. I also got some recommendations for future reads. Definitely plan on continuing to go.
Overall:
I love Doctor Strange. I'd actually already experienced this creative team with The Private Eye but I didn't realize it until the comic book club meeting that it was the same people. I felt like Martin captured the spirit of classic Strange well. There is a cat demon that I particularly kept returning to. It was a great story and I think would be a good introduction to Doctor Strange.