Tree Mail created and written by Brian Smith and Mike Raicht, art and colors by Brian Smith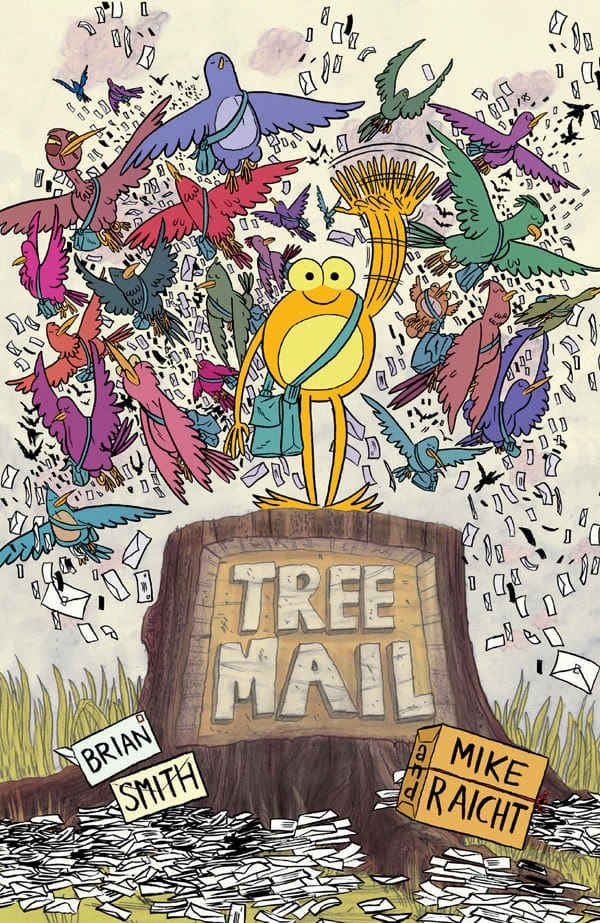 Tree Mail
by
Brian Smith
,
Mike Raicht
Format:
Paperback
Rudy, a determined, optimistic frog, hopes to overcome the odds and land his dream job delivering mail to the other animals on Popomoko Island! Mike Raicht and Brian Smith (SpongeBob Comics), the team behind Finding Nemo: Losing Dory and their own series The Stuff of Legend, deliver a full-color, all-ages romp that shows that the hopeful Rudy always hops forward, no matter what obstacle seems to be in the way of his dreams! And there are plenty of speed bumps, challenges, and detours on the way to becoming a full-time member in the island's Royal Air Delivery Corps!
Goodreads
The book begins by introducing you to Popomoko, our setting, but I would rather start with Rudy. Rudy is a tree frog but he isn't interested in the normal frog things. Instead, he wants to join the Air Delivery Corps, but they are all birds. Rudy's enthusiasm is infectious. Rudy is all of us, or at least definitely me, when we have our heart set on something. All of the things that he does to show his devotion to the ADC are adorable, but I promise not to spoil them for you because it is all in the details. Also in the details of the art, while the style is simple Rudy's body language tells you a lot. The variety of island inhabitants is just plain fun and I particularly like Baz.
The whole tale is cute but there is part of it that inclines me to make a comparison to Pixar, because some of the things that made me laugh I'm not sure would really register on a child's radar. The birds that Rudy admires so, are horrid at their jobs and you become increasingly aware of it. There are little slivers of some real adult groan moments, but Rudy stays Rudy. This one is short and sweet and I highly recommend the trip.
Personal thoughts: I'm back! Though a little rusty… I don't think I could have picked a better book to return with. Rudy's optimism is just what I needed, let's do this!