Free Comic Book Day 2015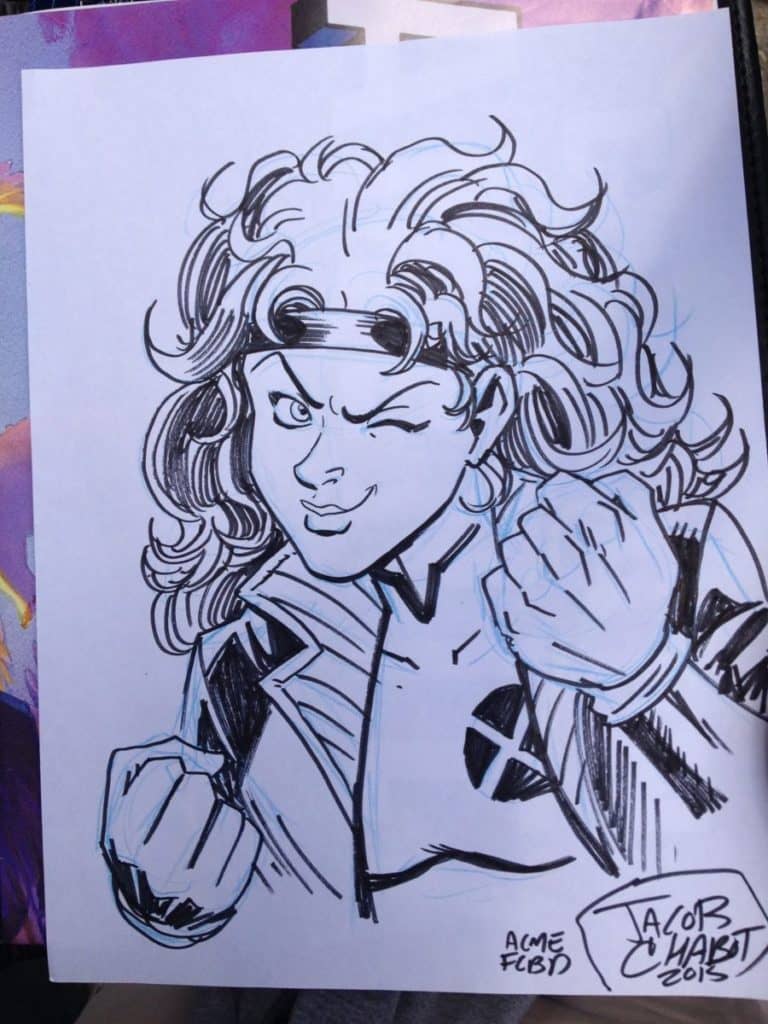 Someone gave me a trade of Locke & Key Vol. 1 for Christmas. I then bought more trades… then a few months ago I bought my first comics. There will be other posts for those. This year I decided to tackle my first Free Comic Book Day. There are several options in Greensboro. While I buy my comics at Parts Unknown, I decided to go to Acme Comics because they have a larger event. I went with a coworker so I didn't go as early as I originally planned. I was number 314 in line. It was a lot of standing in line and I was very glad to have someone to talk to. First we went through the comic line and got our GIANT bag of comics. Then we got our tickets for the sketch line and got to stand in more lines. It was worth it though. Here is a quick snapshot of my sketch from Jacob Chabot.
This is absolutely insane but I am going to go through all of the free comics I got and give you a super brief response. I'm going to bold the ones that I particularly enjoyed.
Worlds of Aspen 2015 – Two samples, Eternal Soulfire is the one that intrigued me more.
Valiant 25th Anniversary Special – I have no preconceived notions of Valiant. I read Ninjak #1 and it was interesting. I think the idea of Bloodshot becoming "human" is intriguing.
The Stuff of Legend/Thanatos Diver – I'm intrigued at the concept of Thanatos Diver but it is one where I don't think I like the art style enough to read it.
Secret Wars #0 – (This was Acme's first exclusive FCBD cover.) I haven't been paying much attention to the events, partially to avoid the temptation of getting dragged in.
I.C.E. Immigration and Customs Enforcement: Black Out – I thought this was one of the better stories at giving you some story and character info versus just a tag line.
Tales of Honor: Bred to Kill #0 – I think somewhere in my house is an Honor book. I also keep meaning to read more space stuff…
Rabbids – This was just too funny. I used to play these games with my parents. All of it was funny but the Rabbids parts were just freakin' perfect.
Dark Circle Comics – I'll admit I was disappointed because I was super curious about The Shield.
Bodie Troll – Bodie is freakin' adorable and just perfect. Some of these I didn't realize had multiple stories. Hiding in the back of this was Drone, the concept was intriguing.
Jurassic Strike Force 5: One Shot – Is just exactly what is sounds like.
Bob's Burgers – This is like a psych eval of the cast especially the children.
The All-New, All-Different Avengers – OMG who is in the Iron Man suit? I'm intrigued by this group. It's an intro point for new Avengers fans… (I am going to be so poor.) The Uncanny Inhumans… I'm still not sure my level of interest in the Inhumans.
The Phantom – I always forget about that movie. When I think of comic book adaptations I forget about it. This was a good book with a mix of stories.
Powers Firsts – I watched the TV pilot and this felt, nothing like it. The victim is very different. I like the movement of this story, visually.
Image Firsts: Shutter – I like that the flashbacks of home seem like old fashioned comics. The concept of this universe is intriguing to me. This sort of urban fantasy has always interested me.
Image Firsts: Chew – Confession. I already read Volume 1 of Chew digitally but talk about concept love! Also, not my normal art choice but for some reason I love it.
Ivar, Timewalker #1: Pullbox Preview – I feel like Ivar is the James Bond of time travel. Rai is meh. The Valiant is overwhelming at the idea of a team up of people that I barely know the names of.
Valiant: Bloodshot Reborn #1: Pullbox Preview – I had multiple samples of Bloodshot Reborn and am not sure how it would be to see him without powers never having seen him with.
Image Firsts: Outcast – I will admit I think it is of course easier to get interested in a full issue. I had a moment of temporal disorientation starting out. I can't decide if I like the art style or not. My interest in universes with possessions depends on how far it goes.
Fight Club – It does a really good job of establishing the reality. Also includes The Goon and The Strain. I found myself surprisingly sucked into The Goon.
Image Firsts: Nailbiter – Definitely wins for most gruesome cover. The birthplace of serial killers is totally a concept that I go for.
Valiant Next 2015 Preview – So much Valiant concept. I think Gilad is actually the most intriguing character to me.
and that is how much I read on the first day after, Sunday… and then Monday…
2000 AD – Seriously… a little bit of everything…
Motorcycle Samurai – Kind of creepy, intriguing but still not really sure what is happening here.
Mercury Heat – Interesting world building down to the armor. So often we jump from Earth only to massive inter galactic adventure without the inbetween… the Wild West.
Bongo Free-For-All! – I've never been a Simpson's watcher (We can discuss my weird childhood another time.) but this was like a highlights reel.
Lady Justice – I love Gaiman, so it is interesting to see the comic book side of him.
Street Fighter – I liked the Street Funnies. I also made a point to show Ben ridiculous shots of boobs…
Avatar also featuring Plants vs. Zombies and Bandette – I don't know anything about Avatar but sisterly cuteness. The total combination in this is funny.
Help the CBLDF… Defend Comics – I like Gene Luen Yang and I love the idea of him reviving this character. Honestly I think one of my favorite moments was the RABBIDS. I love Rabbids!
And Then Emily Was Gone – Creepy, creepy and creepy.
March Grand Prix – Cute art…
Scooby-Doo! Team-Up/Teen Titans Go! – Absolutely classic Scooby-Doo in the Hall of Justice so of course it is funny. I liked the Teen Titans more than I would like to admit.
Teenage Mutant Ninja Turtles – The faces just weird me out… I am a child of the 90's. There are all of these characters they talk about that seem cool that I know nothing about…
Tick – I say I'm a 90's kid but then have to admit that Tick was too tongue in cheek for me. I have thought of this line mishap multiple times in the past few months.
Steampunk Goldilocks – I grew up loving retellings of Goldilocks and the Three Bears. The art style isn't my taste but it was amusing.
Savage Dragon Legacy – So many worlds that I know nothing about, and now I know a little more.
Divergence – Superman's hoodie has a perfect hidden zipper and no pockets. I am never easily distracted. Now the birth of Grail intrigues me.
Cleopatra in Space – Adorableness… in my head cannon this Cleopatra grows up to adventure with Dr. Who…
Doctor Who – Seriously they were stacked in that order… I had always thought about it being the same companions, not different ones.
Hatter M: Love of Wonder – I would be in big trouble if I tried to buy all the comics related to books and authors that I read! The art style totally suits this world though OMG. Also Hatter's character is probably my favorite part of this series.
Captain Canuck – I like the good guy female sharpshooter. I also like the design of the costume with the use of the blown up patterns.
Grimm Fairy Tales: Wonderland – I'm still convinced there is a hair color inconsistency. I read it multiple times just trying to figure that out.
Terrible Lizard – The children are always the ones who are understanding. And now I want to go rewatch Primeval…
JoJo's Bizarre Adventure – This was completely meaningless to me. I tried but I had no context.
Transformers Robots in Disguise – Their eyes are so big and cute… and cute…
Comics Festival! 2015 – I love all the things. All of them.
Boom! Ten Year Celebration – Silly Labyrinth. I seriously need someone to tell me if I should be reading Mouse Guard. Also LumberJanes, I know it's good but is it me?
Gronk featuring Hero Cats – I honestly can't imagine a childhood where comics are for everybody.
Super Mutant Magic Academy/Step Aside, Pops – I am intrigued by SMMA but still kind of clueless. Also apparently I like Kate Beaton.
Then the stuff that took me forever to read. No offense to it but this was A LOT of stuff.
Pokemon – My brain is programed one direction… this is so much work. Also I really haven't followed anything Pokemon since original gameboy.
Sonic The Hedgehog/Mega Man – I have a hard time imagining how some of these things can have enough material.
Overstreet's Comic Book Marketplace – I am a dabbler so I enjoy reading about things I have no clue about.
SpongeBob FreeStyle Funnies 2015 – Kind of like the Simpsons. I think of it as a highlights.
Hip Hop Family Tree – Such a range of things.
Attack on Titan – So much backwards. I had to ask my niece for directional help because I started to doubt if I was doing it right.
So it was a great experience. I had an absolute blast. I don't think I would ever do it alone. All those lines you want to have a friend. I think that I would definitely recommend it. You could always come with me!