City of Glass by Cassandra Clare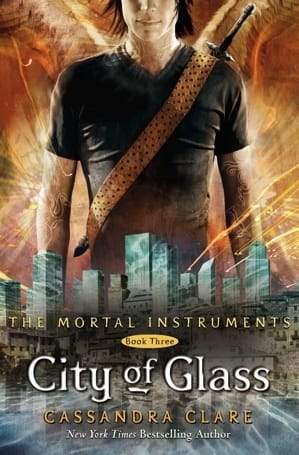 City of Glass
by
Cassandra Clare
Series:
The Mortal Instruments #3
Format:
Hardcover
Goodreads
Valentine is going after the third Mortal Instrument, but no one is sure what it actually is. Alec, Isabelle, Jace, Clary and Simon are coming into their own. The Shadowhunters already felt like adults but that was being ready for battle and for death, now they are learning to live. Clary and Jace both have their own role to play and they will play it well. In some ways this battle belongs to them more than any one else.
I'm still trying really hard to resist spoilers… even to say love will find a way is a spoiler. I think the urgency is even greater here. The stakes are higher, the dangers. As we've struggled with who to trust we have built some very strong bonds. Some characters have friends that they hardly realized they still had. There is a unity. You also suddenly become aware of the diverse makeup of the group, we only really lack one of the fae. The previous books have touched on it but this one really grabs hold of the topic of the meaning of family. Also I thought this yesterday and then saw it mentioned on something today, can't remember what but this world is very Harry Potter meets Constantine.
I know that this was released as a trilogy and that the next three books were added, I'm not sure at what point they were thought up. Even though this book ended pretty cleanly I can see where the next books will build. I also did not realize until this week that the Infernal Devices and much of Clare's other work are all part of this universe. Talk about dangerous. I might be more intrigued by Infernal Devices now than even the rest of this series.
Related Posts