Going Social: Excite Customers, Generate Buzz, and Energize Your Brand with the Power of Social Media by Jeremy Goldman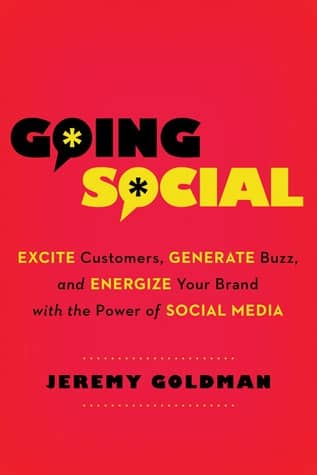 Going Social: Excite Customers, Generate Buzz, and Energize Your Brand with the Power of Social Media
by
Jeremy Goldman
Format:
Paperback
Goodreads
The full title of this book is a mouthful, no doubt.  This book actually didn't take that long to read I just spread it out.  When I first started I was shocked to realize just how quickly I moved through it.  In some ways that subtitle is a pretty good summary of the book.
Goldman did a lot of things well.  He covered everything from the front line interactions to the more gritty business side and he did it in such a way that even I, who did terribly in the my one undergraduate business course, understood pretty much everything he was saying.  Okay yes I got a little zoned out with ROI but that has more to do with the fact that it is less relevant to me than Goldman's actual coverage of it.  He covered a broad range but with good distribution, trying to give a basis of everything without getting hung up on a favorite topic.  There was also a good variety of examples and an emphasis on the fact that there is no easy answer in Social Media. The fact that the book is filled with personal experience and personality also makes everything feel more applicable and more achievable.
I suppose the most important question is "Was it useful?"  Well I marked a great many pages for reference later so I would say that it was very useful.  There are parts that are less relevant to me but even those were interesting.  Ben and I had conversations about the marketing of companies we like.  I found myself aware of companies with frustrating social media interaction.  I observed a Facebook page this week where the company Likes every comment to show that they read it but they almost never actually reply to a comment publicly, even when it is a question that others might have.  It was supposed to make them look engaged instead in showed that they were better at button clicking than having an open conversation.
So some examples of things that I found interesting… To my shame I was completely ignorant to the fact that you could change your Twitter handle, but I started thinking about it when the book discussed real estate and claiming the relevant names on new channels.  So now my Twitter actually matches everything else, so it already has had an impact.  Information on which channels are better for which types of interaction.  Thinking about making a plan that gets the customer involved instead of just throwing information at them.  How to identify your influencers and promoters.  I even marked some services and companies mentioned that peaked my interest.
There are certain portions of this book that will age well.  With a subject like this there are the unavoidable technical items that will change, like Facebook mechanics.  This book was published in November 2012.  In the past I have seen technical books that are often outdated by publishing especially if there is resistance to continual updating deep into the process… here that was not the case.  I did not find a single section where I felt like it had been written months or years before and hadn't been updated to the current data.  That makes me a raving fan, I will admit.  There is no telling how long the technical details in this book will be accurate a while longer at least, but either way my recommendation is to go ahead and read it now.  Okay you may say that you know how to use social media or that you don't really need details like this, to that I would say that this book is amazingly relevant across the board whether you are a blogger, just a citizen who needs personal branding, or someone who works with social media.  I think my most recommended populace would definitely be small businesses that are still kind of stumbling into the massive world of social media.