Whale Talk by Chris Crutcher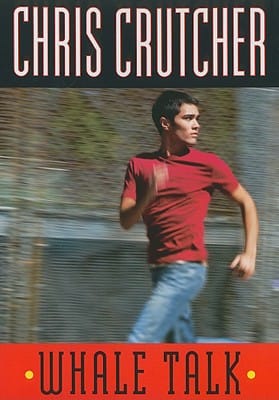 Whale Talk
by
Chris Crutcher
Format:
Paperback
Goodreads
I never expected to come out of a book labeled Sports–Fiction having cried.  I've never played an organized sport in my life and have spent very little time watching them.  My sister used to swim but those are vague memories so I did occasionally ask questions of my ex-swimmer boyfriend, but though this book is set in high school sports there is a hell of a lot more to it.  The fact that this book is banned for racism and offensive language makes me to be absolutely honest livid.
TJ is a Caucasian/Japanese/African American in a town where brunette versus blonde qualifies as diversity.  Frustrated with the athlete worship of the entire community he decides to build a swim team of "Far Outs" and to get them letters.  The journey will not be an easy one, but most of them have never really had anything easy.
At one point you learn the reason for the title (for me it happened on page 179) and TJ's dad talks about what it is to be human and how even good parents can shelter their children from reality leaving them unaware of the brutal exposure they will some day have to face.  The handling of racism is all about what is wrong with it.  The "offensive" language is all used in a very natural way.  The book is recommended by Booklist for grades 8-12 and I don't care where you are you cannot pretend that your students are oblivious: "We can't allow students to go down our halls and say those words, and we shouldn't let them read it," said board member James Shannon. "That book's got a lot of bad, bad words." What Crutcher shows us is a very hard side of reality which no one should expect to be pretty but it is something students need to see.  I was wowed by this book and its message.