The Aviary by Kathleen O'Dell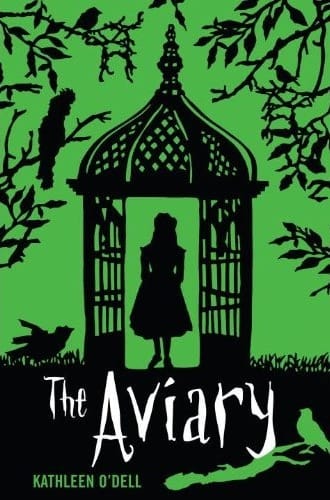 I received this book for free from ALA 2011 in exchange for an honest review. This does not affect my opinion of the book or the content of my review.
The Aviary
by
Kathleen O'Dell
Format:
ARC
Goodreads
It makes me sad that it has taken me this long to start reading these.  I suppose it isn't important to read them before publication date but I wish I had been able to.  I have so many books I don't think I'll ever get to them.  Though many are a nice variety from what I usually seek out.  This one for example from the description I would not normally pick it up.  To a friend I described it as "historical mystery with a dash of magic."  Okay the fact the mansion belonged to a magician hints at that dash, but he could just be a regular magician.  This is why genres drive me crazy.  They don't want to market this as fantasy so we just ignore the magical aspect and market it as a "mystery-adventure."  Sure I'm a fantasy nerd but say there was a cataloguing term for dash of magic I would look for it constantly.  I was raised on those books.  I love a fully created fantasy world but something like this is even more enchanting.  This is the kind of book that makes a young person wonder if maybe magic could be possible if you just found the right kind.  Alright so the Glendoveer mansion as previously referenced Mr. George Glendoveer was a magician and illusionist.  Now his mansion houses his widow, the cook, the housekeeper, and Clara.  And of course the birds.  The birds are the ones who set eleven-year-old Clara on the path to solving they mystery haunting the house.  I was comparing Clara to my usual heroines.  Usually I read the brave and daring adventurers but I suppose Clara is just on a different scale.  Alright so the thing I sometimes like about ARCs is it's easier to discuss the age thing because they usually print their target audience, here being 8-12.  I hate ranges honestly.  I was reading things before I fell in their range and obviously I'm reading them well after but anyway.  From the cover this looks like a pretty scary book.  There are some spooky moments but it ends quite happily.  I'm sure the cover will terrify some mother somewhere but as long as she pays attention to whats inside she should be impressed.  I do think the cover does something amazing.  I kept looking at it and forgetting it was a kids book, and yet it still looks like a younger age group.  Anyone could hold this without getting funny looks, or so I think.  I greatly enjoyed it but it might end up in the pass on pile because I need shelf space.
Scheduled Release Date: 9-13-2011