Star Wars: Lando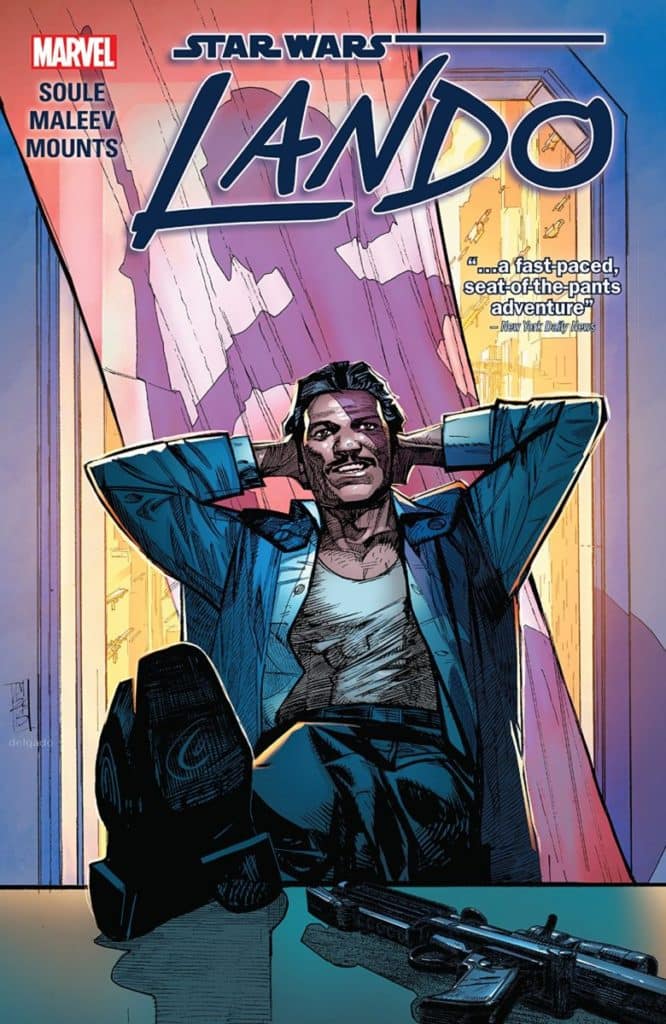 Star Wars: Lando
by
Alex Maleev
,
Charles Soule
,
Paul Mounts
Series:
Star Wars: Lando #1
You know him, you love him — now, join him for his biggest caper ever as master of charm Lando Calrissian steps into his very own high-stakes adventure! Before he joined the rebellion, before he ran Cloud City, Lando made his way in the galaxy getting by on some swindles, some swagger and a smile. With the loyal Lobot at his side, Lando has a plan to steal a very valuable ship. But has he bitten off more than he can chew? One of the galaxy's deadliest, most effective trackers is on his tail, and the heist of a lifetime has become a fight to survive! Lando and Lobot took this gig for the easy payday — but if they make it through alive, they'll never be the same. It's the tale of a scoundrel in his natural element: trouble! Collects Lando (2015) #1-5.
Goodreads
We are in an era of Donald Glover love and this book makes me want even more Lando.
First we meet Lando, the con man, and then we meet Lobot but he seems different. This is an earlier version of the two of them. I've probably said this a million times but I also love the expanded universe for letting me meet so many more species and characters, Aleksin and Pavol definitely rank in the weirder. There is also a new fun character, Chanath Cha, who first appeared here but just recently got some origin story
There is a certain decadence to the colors that I think would seem odd with any Star Wars character other than Lando. For him it seems perfect. Of course there is a heist, and of course it does not not go smoothly. I feel like it perfectly expands on the characterization of Lando from his roguish charm to his tendency towards high risk and high reward plans.
One thing we see some of in this arc that I would like to see more of is Sith lore. When we rebooted the universe we lost a lot of history and I realize they are mostly looking forward with new cannon, but I really want to see at least some framework and some nuggets like this established. I'd like to have a nice long conversation with Korin Pers.
I also feel like this creative team definitely clicked. It is a fun ride but definitely not all fun and games. I will warn you that I cried in the end.