Soulless by Gail Carriger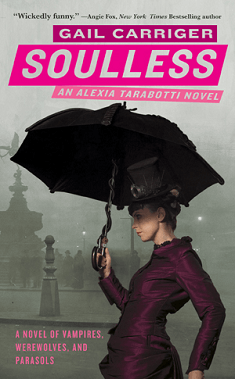 Soulless
by
Gail Carriger
Series:
The Parasol Protectorate #1
Format:
eBook
Alexia Tarabotti is laboring under a great many social tribulations. First, she has no soul. Second, she's a spinster whose father is both Italian and dead. Third, she was rudely attacked by a vampire, breaking all standards of social etiquette.

Where to go from there? From bad to worse apparently, for Alexia accidentally kills the vampire—and then the appalling Lord Maccon (loud, messy, gorgeous, and werewolf) is sent by Queen Victoria to investigate.

With unexpected vampires appearing and expected vampires disappearing, everyone seems to believe Alexia responsible. Can she figure out what is actually happening to London's high society? Will her soulless ability to negate supernatural powers prove useful or just plain embarrassing? Finally, who is the real enemy, and do they have treacle tart?

SOULLESS is a comedy of manners set in Victorian London: full of werewolves, vampires, dirigibles, and tea-drinking.
Goodreads
I will admit I went into this with no idea of the steamier side, and I don't mean steampunk. I honestly knew very little. I knew I had one friend who loved it and I saw the author speak with a group when I went to ALA. They didn't have enough of her book to go around so I let someone else have mine because it was several books into the series. I have read some mixed reviews but I think the main requirement for enjoying this book is a sense of humor and not taking anything too seriously.
I always talk about loving books that make you experience the full gamut of emotions. Romantic feelings are a normal inclusion but making me a blush is an added extra. Alexia is a curvy Italian  with a strong nose in a world that prefers fair and dainty beauties. She is also the rarest of creatures. She is not supernatural, but the opposite. She is feared by many of the supernatural and the regular people don't know that what she is even exists. She is doomed to be an old maid and she is okay with it. She enjoys a good intellectual conversation and driving Lord Maccon, the werewolf Alpha, crazy. Yet in the times to come she is good at making herself useful and she has skills taht no one else can provide. I laughed so hard that it hurt. I squealed. This is not meant to be serious. You are supposed to giggle. I don't know if I'll keep going with the series or not but definitely enjoyed it.