The Thief by Megan Whalen Turner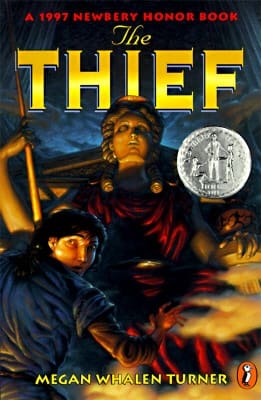 The Thief
by
Megan Whalen Turner
Series:
The Queen's Thief #1
Format:
Paperback
Goodreads
I think I read this once upon a time years ago, but pleasantly it was long enough that I did not remember the many twists.  Turner definitely keeps you on your toes especially with a cast of characters that just keeps on surprising you.  There is nothing two dimensional about this tale filled with adventure and intrigue.  Of course one of the strongest recommendations I can give a book is the fact that I could not put it down until I was finished.  I took this one off the shelf because of all the things I have been hearing about the fourth book and let me say I cannot wait to get my hands on the rest of the series.  I honestly can't understand how I didn't fall in love with it a long time ago.
Newbery Honor 1997
This is the first book of The Queen's Thief series.