Severed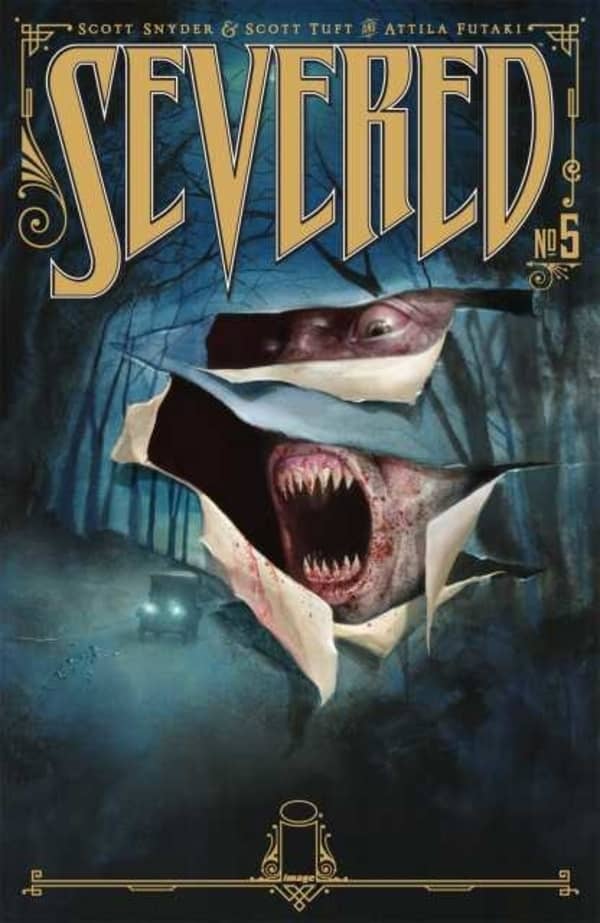 Severed
by
Attila Futaki
,
Scott Snyder
,
Scott Tuft
Format:
Paperback
Eisner Award winner SCOTT SNYDER (Batman, Swamp Thing, American Vampire), Scott Tuft & NYT Best-Selling-Artist Attila Futaki (The Lightning Thief) bring you the complete collection of the scariest horror comic of the year, SEVERED.

1916. A man haunts the roads; a man with sharp teeth and a hunger for flesh. When 12 year-old Jack Garron runs away from home, he'll see how quickly the American Dream becomes a nightmare.
Goodreads
A few notes before comic book club:
That ending made me screech. Okay, roll back a minute. This book is so creepy. It's not even really a secret, you see the Nightmare early on but somehow that makes it even more terrifying. In reading the book I temporarily forgot about the opening because I got to engrossed in the story. There were many things that I let sneak up on me. There were some hints, I should have seen more of it, but I think I was just so caught up in following Jack.
Post comic book club:
The Nightmare isn't the only monster that Jack comes across. There are other bad men that he meets along the road. Not all men are bad, but most of those they meet are pretty terrible. It says something that "Alan Fisher" seems like the trustworthy one. Many of us were surprised by the ending and the fate of the characters. There were certain scenes like the bear trap and the duck that stuck out in many minds. I probably should have mentioned earlier that Sam is fantastic. I really liked the art. It suited the book and the color palette shifts with the mood. Attila Futaki hasn't done much else in the United States. Scott Tuft is more of a film man. I have a terrible tendency towards not realizing creators in common… like I totally didn't realize Scott Snyder was behind Wytches. Another thing we all had a consensus on was that this would make a good intro to comics book for someone who likes horror but may not be a comic reader.