Searching for Dragons by Patricia C. Wrede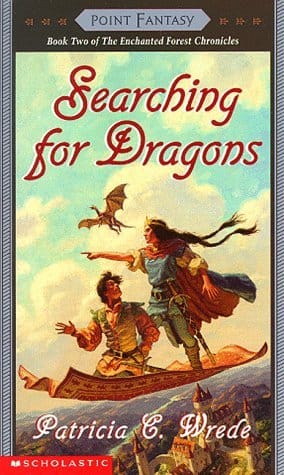 Searching for Dragons
by
Patricia C. Wrede
Series:
Enchanted Forest Chronicles #2
Format:
Paperback
"Can you send us to the Enchanted Forest? We're in kind of a hurry..." 

The cast: an un-ordinary king and an extraordinary princess, a couple of kooky giants, an overzealous magician, a loyal and helpful witch, and a host of evil and dangerous wizards.

The instruments: a broken-down magic carpet, a leaking magical sword, and a few buckets of soapy lemon water.

The problem: dragon-napping and magic-stealing.

And so the story begins, one fine day while King Mendanbar is taking a casual stroll through the Enchanted Forest....
Goodreads
Mendanbar, what a name. Honestly though I adore him. Once again the characters defy what you expect. When you imagine the powerful king of the Enchanted Forest, you don't imagine a young man who is easily distracted and a bit antsy. Cimorene is back but this time as the assistant to the Dragon King. The last book stayed mostly in the caves of the dragons, but this book is traveling all over this magical world. You definitely get to see more of the Enchanted Forest. Morwen is definitely still one of my favorite characters. I think the format of this book follows a more standard formula of the rambling adventure. The diabolical wizards also make me laugh, especially how you can defeat them.
I've honestly always felt like these books would make hilarious movies, either animated or live action with some serious special effects. Though in my head I definitely picture an animated version in a style very close to The Sword in the Stone. Though I can also picture it fantastically as a nice live action tongue in cheek film.We get a little bit of fast paced romance here but it works because of that sense of humor. Now we get to the fun part though because I don't remember a single thing about the rest of the series. AHHH!
Related Posts