Magic's Promise by Mercedes Lackey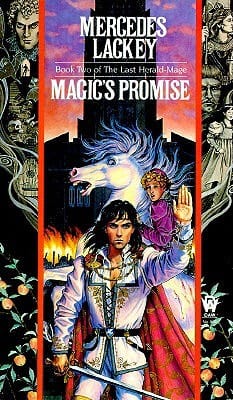 Magic's Promise
by
Mercedes Lackey
Series:
The Last Herald Mage #2
Format:
Paperback
Goodreads
Vanyel has come into his own and the weight of a nation lies on his soldiers. It should have been a vacation, at least as much of one as Vanyel could manage around his family. He has spent years dealing with border trouble, but this is a different kind, more politics than battles. Luckily Vanyel is the right man in the right place.
I always have a hard time writing about sequels. Vanyel has grown, years have passed. He is hardened and scarred by war. His vanity has faded some to be replaced by exhaustion. More than before he is connecting to people but it isn't easy. There are mysteries to be solved. There is also a primary antagonist set up and he is a different style than in most Valdemar books. I often feel that the Valdemar books have a certain trend of exploring the lives of characters who are unloved and helping them find their place in the world. That character is not always the protagonist.
Related Posts