Chrononauts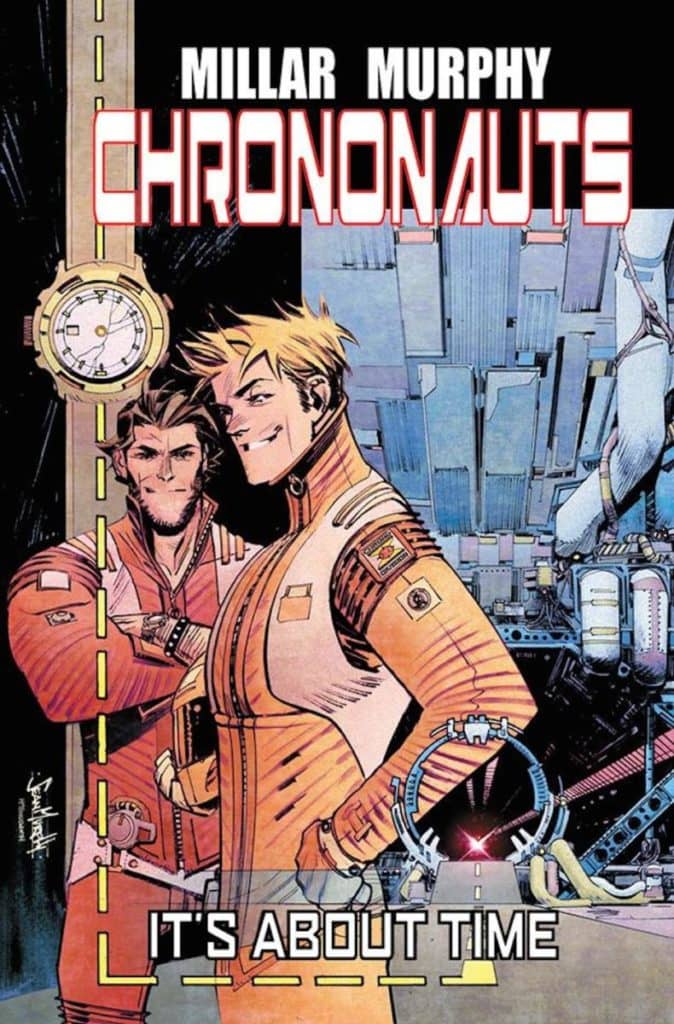 Chrononauts
by
Mark Millar
,
Sean Gordon Murphy
Corbin Quinn and Danny Reilly are two red-blooded American guys who also happen to be scientific geniuses. With the whole world watching, they embark on the world's first time-travel experiment. But when their planned routine goes off-course, they're left to fend for themselves - leading to an era-hopping adventure! From ancient Rome to the roaring twenties to the 1980s music scene, Corbin and Danny wreak havoc with the time stream, score front-row seats to the world's wildest events, and get into hijinks with history's scariest villains. But is it worth the price, when they have unresolved problems to address back home in the present day - and a team of angry bosses ready to do whatever it takes to rein them in? This story unites the talents of writer Mark Millar (Kick-Ass, Kingsman: The Secret Service) and artist Sean Gordon Murphy (Punk Rock Jesus) - two powerhouse figures in the comics world, whose combined forces must be seen to be believed.

Collects CHRONONAUTS #1-4.
Goodreads
Time travel romp with a heart. That's what I think when ever I think of this book. This is the FIRST book that we have done for Acme comic book club that I had already read. It was very early in my comics life. I actually now have this in issues and paperback. Also apparently with a hidden image for color blind people? Sean Gordon Murphy's art could not be more perfect for this book. The personality of Corbin and Danny just pops off of the page to the point that you feel like you can see Danny winking at you. The series got optioned for film just after the first issue released. As of April 2017 it seemed to still be in the works.
The other interesting thing is… They have always marketed this as "Book 1" with the sequel originally intended for 2016. I haven't heard anything about the sequel in a while but rereading it. I think I'm okay with that. Don't get me wrong. I LOVE this book, I think I may love it even more the second time around but it feels right. It's like watching a TV show where you feel like they told the story perfectly in season 1 and you find out they decided to do a second season, you're excited but also not sure. Another season will change the story and you love the story. Four issues isn't much but it just feels so perfect here. They could have easily dragged it into six with more adventures in the middle but I like that the time hopping is done in a way that gives you a vastness but without getting bogged down in it.
I don't want to talk too much about the ending but it definitely makes this a truly well rounded book. You have action and fun and gorgeous scenes, but the heart comes at the end. I like to think that at the end of it all Corbin is a little more gray but it is worth it.
Book club was interesting for this one. People definitely had a variety of levels as far as how nit picky they were about their time travel physics. We also caught something I had noticed on my first read through but then forgot about… there is a certain piece missing at the end that I imagine may have been intended to be the lead up to the second volume. There were mixed emotions on the colors, which made me realize that I actually really enjoyed them. It is interesting to see the different details that people notice and the different moments that stand out. I always remember and notice things at comic book club that I didn't have in mind when writing initial posts or even while reading.