The Iron King by Julie Kagawa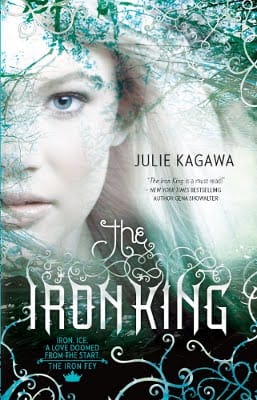 I received this book for free from the Publisher in exchange for an honest review. This does not affect my opinion of the book or the content of my review.
The Iron King
by
Julie Kagawa
Series:
Iron Fey #1
Format:
eBook
Goodreads
Okay so I saw a link about the first book of this book being free online for a limited amount of time and was like oh I'll download that and at least try it, I've wondered about that one…  then I got bored and was like oh I'll sample it… that was earlier today.  It didn't matter that it was on the computer I could not stop reading it!  Even though I knew I should be working on NaNoWriMo.
Meghan's father disappeared when she was young.  She always imagined him walking into the pond, a child's imagination you would assume.  Until around her sixteenth birthday she starts to see things that shouldn't be there, then her half-brother is replaced with a changeling, and her best friend is definitely not what or who she thought he was.
Meghan goes into Nevernever to save Ethan, her half-brother, but she is connected to it more than she ever would have imagined.  Loyalties are tested and strained.  Unlikely alliances are forged and you definitely begin to feel that Meghan is a force of change in this world.  I love this world and how it works and the origins of the Fey and how their lives work.  Take for example Puck, you can see the legend and it gives you a strong basis for knowing him but there is also a deeper him.  I think Ash was particularly impressive to me.  You very quickly got a strong sense of the outer public him but also just enough of a crack to know that there is more under there to be discovered.  Grim is a very intriguing character, his reasoning for everything is simply that he is a cat.  The novel is well laid out, the arc works, and at the end you are left with unpaid debts and unfulfilled vows that have you sitting on the edge.  There are love triangle-esque moments but it never got petty and this was another case where the difference of relationships makes it more believable without any oh dear I just can't make up my mind moments.  I know I pretend to not be the romance type but yes I loved the moments that made my skin tingle and my heart flutter is this book, and she was good at making that happen.  I enjoyed those moments but I don't think I would even consider this a gushy book, most of the time we were very focused on the mission.  I loved it, so now I am hooked on another series!