So You Want to Be President? by Judith St. George, illustrated by David Small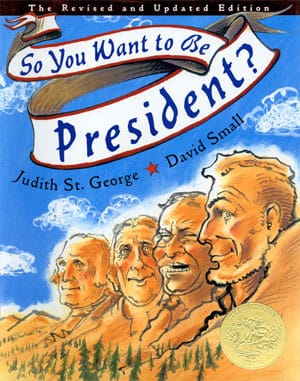 So You Want to Be President?
by
David Small
,
Judith St. George
Format:
Hardcover
Goodreads
My copy is actually "The Revised and Updated Edition" which just brought it up to date into the administration of George W. Bush.  I am definitely looking forward to seeing what happens in revisions that include the Obama administration.  I love the illustrations, perfect for this book in the style of political cartoon caricatures.  Part of what I love about this book is it gives us all a much needed reminder that Presidents are people too.  As it humorously presents their varied backgrounds you remember that they are not chosen by a higher power and that it is a job.  Of course it avoids pretty much any controversy though I suppose there are some who would not appreciate their portrayal but overall it is definitely all in good fun.  My favorite bit… probably William Harrison with his log cabin facade.
Caldecott Winner 2001