Lights on the Nile by Donna Jo Napoli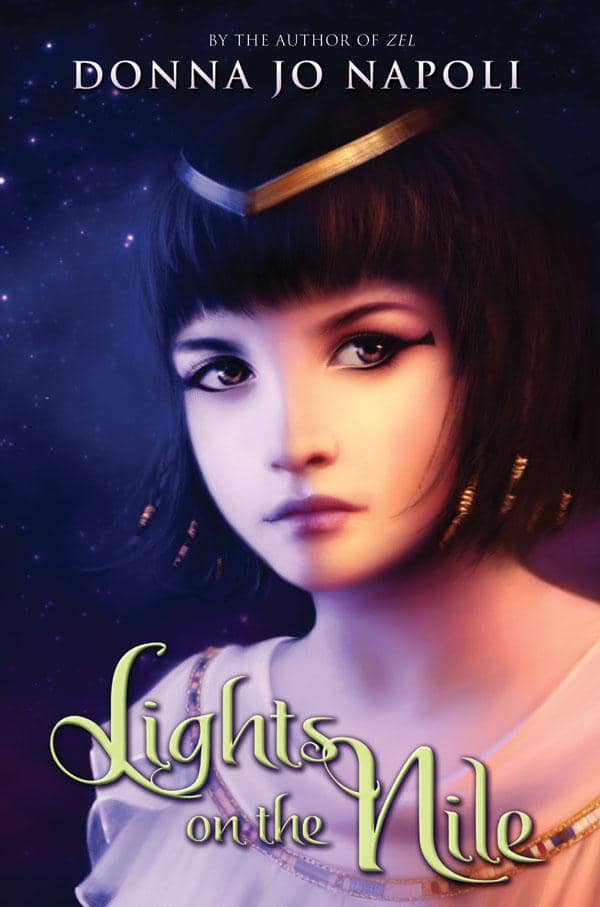 I received this book for free from ALA 2011 in exchange for an honest review. This does not affect my opinion of the book or the content of my review.
Lights on the Nile
by
Donna Jo Napoli
Format:
ARC
Goodreads
Kepi's name means tempest.  She does everything passionately and with the best intentions from rescuing Babu, the baby baboon to her journey up the river on a mission to help Babu and speak to the pharaoh on behalf of her father wounded working on the pyramids.  At first her only friends are animals, but then it begins to seem that her prayers are being answered just not necessarily as she expected.  She will make friends but this journey will end far from how she expected.
About the cover: Kepi looks very clean and very well dressed.  That is not the simple dress that she wears on this great adventure and seeing as her mother takes away her jewelry the headpiece seems out of place… and she is just so clean.  When I first saw the cover I was thinking she was a rich Egyptian, not a farm girl who goes through such hardship.  I enjoyed it.  I liked that I did not have the slightest clue how it was going to end.  I think it was a good balance of new vocabulary and familiar vocabulary.  Kepi is extremely likeable but far from perfect.  The ending threw me for a loop, but I think it was a good one.  It feels very mini-epic in some ways.  You can imagine it as a more story book version: less character but which major events would stick out.  However I think Kepi definitely made the story, even the others we don't get to know as well.  Definitely enjoyed, definitely one where I was more conscious of the younger audience.