Journey by Aaron Becker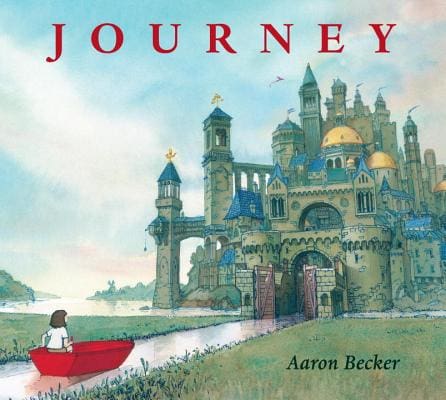 Journey
by
Aaron Becker
Format:
Hardcover
Follow a girl on an elaborate flight of fancy in a wondrously illustrated, wordless picture book about self-determination — and unexpected friendship.

A lonely girl draws a magic door on her bedroom wall and through it escapes into a world where wonder, adventure, and danger abound. Red marker in hand, she creates a boat, a balloon, and a flying carpet that carry her on a spectacular journey toward an uncertain destiny. When she is captured by a sinister emperor, only an act of tremendous courage and kindness can set her free. Can it also lead her home and to her heart's desire? With supple line, luminous color, and nimble flights of fancy, author-illustrator Aaron Becker launches an ordinary child on an extraordinary journey toward her greatest and most exciting adventure of all.
Goodreads
Yes, I was the giant nerd standing in the children's section of the bookstore frantically reading the book that she has been dying to get her hands on. I loved Mitsumasa Anno's books as a child. I loved the wordless story, because there is still a story. The art in this is super gorgeous, like makes me drool. The girl's imagination takes her on a fantastic journey. She creates the door to another world with her red writing implement. The story is clear and sweet and quite fun. It deserves all the honor it has received. I still want to own a copy because I feel like I could spend hours staring at the fantastic world created.
I just want to point out one thing I feel like a lot of people have missed in this book. I don't think the bird is of the imaginary world, because it is the color of the other marker/piece of chalk/whatever it is.
Caldecott Honor 2014