Ivy and the Meanstalk by Dawn Lairamore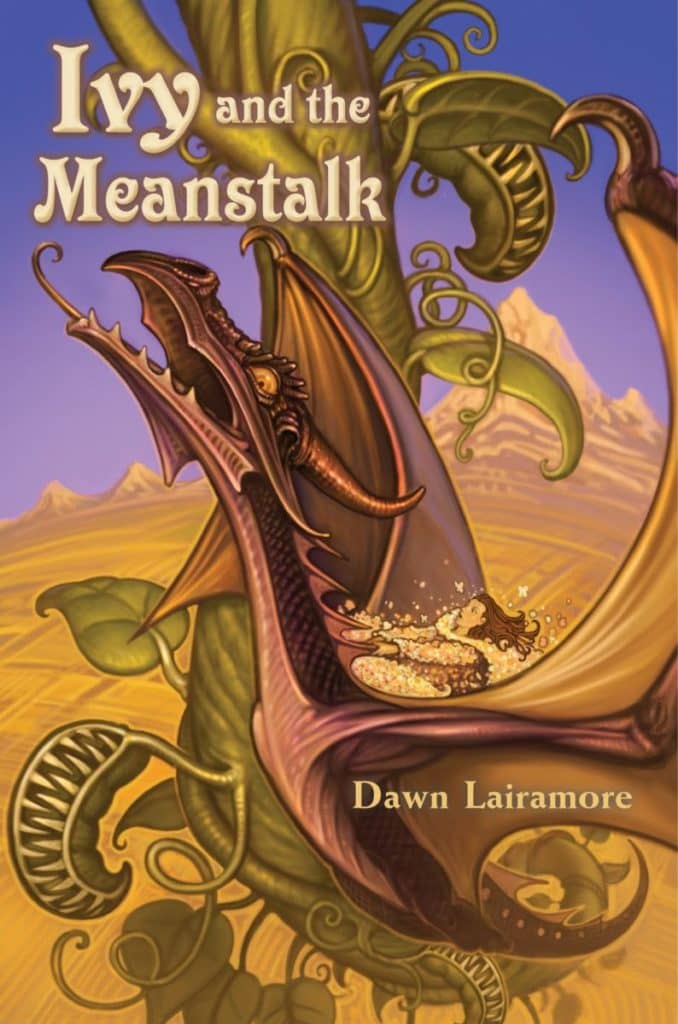 I received this book for free from ALA 2011 in exchange for an honest review. This does not affect my opinion of the book or the content of my review.
Ivy and the Meanstalk
by
Dawn Lairamore
Series:
Ivy #2
Format:
ARC
Goodreads
This is a sequel so some spoilers are too be expected.
Ivy is now the heir to the throne.  She has lessons but she would rather spend her time riding around with Elridge or doing things with her newly returned fairy godmother.  Drusilla is happy as well for she is to be married, but her ex-fiancee shows up and gives her a gift, a necklace.  The necklace turns out to be made of magic beans…
The giants are not necessarily the best people in this twisted fairy tale but they have their reasons for what happens.  Jack was apparently a very naughty young man.  Drusilla was apparently much more irresponsible in her youth.  There are all sorts of interesting things going on in this book.  The land of Jackopia is a really interesting idea.  What would a farm boy do with an endless supply of golden eggs, why found a kingdom and make everything of gold.  The royal family is terrible, but I hope that if Dawn Lairamore chooses to write any other books in this universe that she includes more about One-Oh-Three.
I think the characters in this book stuck more to their cliche roots and didn't really develop more.  I think the plot felt more forced.  I think part of it was the action didn't flow as naturally there was a lot more waiting and killing time type scenes.  The morals are a little more heavy handed as well.  Overall  though I still really enjoyed it.  I think it is a fresh new spin and a nice bit of light fun.
Related Posts