Shadow and Bone by Leigh Bardugo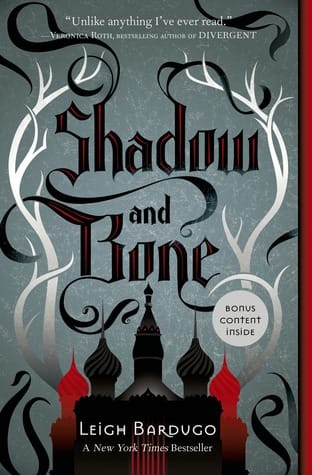 Shadow and Bone
by
Leigh Bardugo
Series:
The Grisha #1
Format:
Paperback
Alina Starkov doesn't expect much from life. Orphaned by the Border Wars, she is sure of only one thing: her best friend, Mal--and her inconvenient crush on him. Until the day their army regiment enters the Fold, a swath of unnatural darkness crawling with monsters. When their convoy is attacked and Mal is brutally injured, Alina reveals a dormant power not even she knew existed.

Ripped from everything she knows, Alina is taken to the royal court to be trained as a member of the Grisha, the magical elite led by the mysterious Darkling. With Alina's extraordinary power in his arsenal, he believes they can finally destory the Fold. Now Alina must find a way to master her untamed gift and somehow fit into her new life without Mal by her side. But nothing in this lavish world is what it seems. As the threat to the kingdom mounts and her dangerous attraction to the Darkling grows, Alina will uncover a secret that could tear her heart--and her country--in two.
Goodreads
This is one I have been anticipating FOREVER. Like seriously before the hardcover was out, before the ARC was out, when we just had a super short concept. I was terrified of being disappointed. I ate it up. I'll briefly address the fact that some have pointed out "inaccuracies" from Russian culture. My argument would be that it is world building, there are room for changes. It might be intentional. Anyway… I like Alina because she is small, she isn't really strong, she is smart, she doesn't feel very pretty. She feels normal. I wish that Mal got characterized more. Yes, they were friends when they were young but we know there weren't many options. It doesn't tell us about him, and what we see is his interest in other women. To me this was more about the fantasy than the romance, Bardugo does an excellent job of introducing you to the world, establishing the Grisha and the Fold. Really this novel is just the set up. Don't get me wrong a lot happens. There are major surprises and events but it takes a little while to get there. This is something that happens in YA sometimes, the shorter stories, the tendency towards series, etc. Alina has power, power that she wasn't even aware of but it takes her from being a mapmaker to being at the top of the Grisha and the important part is the roller coaster doesn't stop there. I think Bardugo creates a wonderfully elegant and intriguing world. It isn't really Russia, but that gives us a good context for filling in the visual details. The characters are interesting but you know that you are really just getting to know them. Looking forward to the next one, I'm trying to get better about not buying sequels until I'm ready to read them.